Let Pictures Remind You to Pray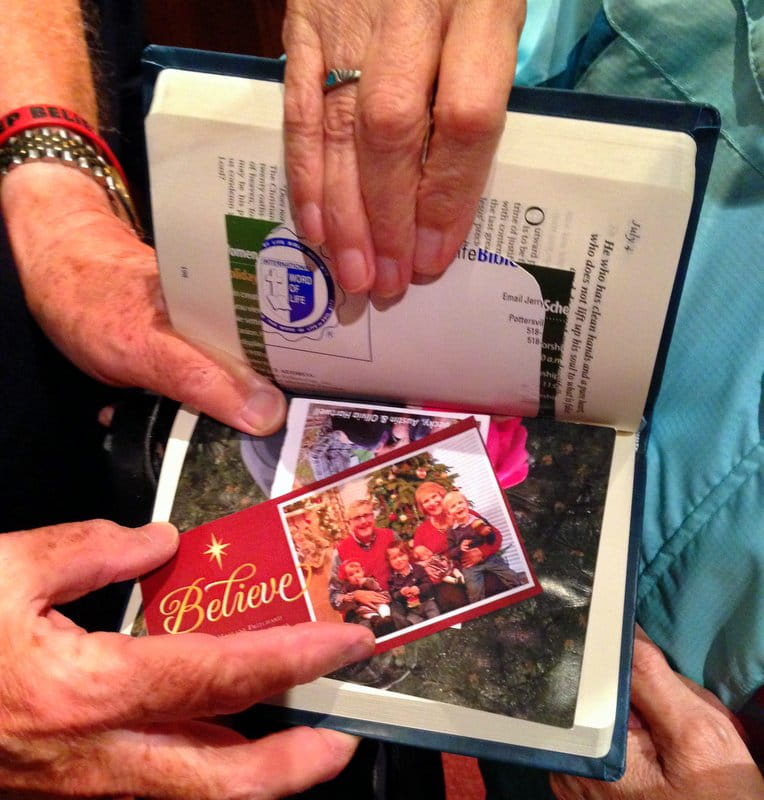 Word of Life Florida
After the morning service yesterday, Dan and Judy Leary came up to say hello. We met them here a few years ago and have stayed in touch ever since.
Opening his Bible, Dan said, "I want to show you something." I thought he had a scripture verse he wanted to share with me. But it wasn't that. Pulling a stack of pictures from his Bible, he explained, "Here are the folks we pray for every morning."

"This one is for Erwin and Rebecca Lutzer." He named one or two other people.
Then he pulled out our Christmas card.
He and Judy keep it in their Bible so they can remember to pray for us.
We were deeply touched that our friends would faithfully remember us before the Lord every day.
Some people keep a mental list.
Some people write the list down.
Some people put pictures on their refrigerator.
Dan and Judy put pictures in their Bible.
Use whatever works for you. It encouraged me to see our Christmas card show up in Dan and Judy's Bible.
Since the Bible tells to pray for one another, here's a creative way to do it:
Put pictures in your Bible to remind you to pray for your friends.
Then pray for them.
It's a simple idea that works, and it works because it's simple.
You can reach the author at [email protected]. Click here to sign up for the free email sermon.
---
---