Joy to the World!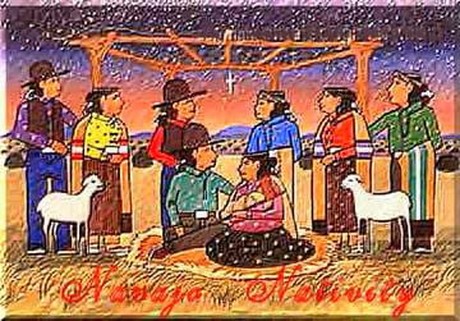 Navajo Nativity scene, Source
"And the angel said to them, 'Fear not, for behold, I bring you good news of great joy that will be for all the people'" (Luke 2:10 ESV).
Isaac Watts wasn't impressed. He thought he could write better hymns than the ones he heard because most church music sounded dreary to him. So his father, a radical non-conformist who was shunned because he did not support the Church of England, told him, "If you can do better, go ahead."
Isaac was only 18 years old at the time.
For 222 Sundays he prepared a new hymn each week for the worship service, revolutionizing English congregational singing in the process. In those days (the 1700s) the Puritans believed only the Psalms should be sung in church. When Isaac Watts wrote his paraphrase of Psalm 98, he didn't intend it to be a Christmas carol. After all, if you compare this to the other songs on our list, you mostly notice what is missing. "Joy to the World" contains nothing about the shepherds, the Wise Men, the star, Bethlehem, Mary, Joseph, or baby Jesus.
Which is why some people don't think of this as a Christmas carol.
When Isaac Watts wrote this song in 1719, he entitled it "The Messiah's Coming and Kingdom," which has the virtue of being accurate, though not very catchy. Over a century later Lowell Mason wrote the music, using Handel's Messiah as inspiration. The words and music perfectly capture our emotions on Christmas Day:
Joy to the World, the Lord is come!
Let earth receive her King;
Let every heart prepare Him room,
And Heaven and nature sing,
And Heaven and nature sing,
And Heaven, and Heaven, and nature sing.
The second verse calls on nature to "repeat the sounding joy," while the third verse looks forward to the day when we will
"No more let sins and sorrows grow,
Nor thorns infest the ground."
The final verse triumphantly proclaims that one day his rule and reign will spread over all the earth:
He rules the world with truth and grace,
And makes the nations prove
The glories of His righteousness,
And wonders of His love,
And wonders of His love,
And wonders, wonders, of His love.
Someone has said we need bifocal vision at Christmas so we can look back to Christ's first coming and look ahead to his second coming. In the meantime, we celebrate the "wonders of his love."
For our final stop on this Advent journey, let's listen to an acoustic version of Joy to the World by Steven Curtis Chapman.
Lord Jesus, may we never take for granted the miracle of your birth. May your presence fill our hearts today as we proclaim, "Joy to the World! The Lord is come!" Amen.
You can reach the author at [email protected]. Click here to sign up for the free email sermon.
---
---