Do You Know Who You Are?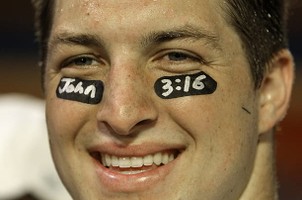 Who said this?
"The world looks at me as a football player who's a Christian, but I look at the world and say, 'I'm a Christian who happens to play football.'"
Those are the words of Tim Tebow, speaking to 26,000 people at Qualcomm Stadium in San Diego in June 2012.

Who said this?
"I am not a role model. Just because I can dunk a basketball doesn't mean I should raise your kids."
That's Charles Barkley, and those words come from a famous Nike commercial.

When Tim Tebow spoke in San Diego, he was asked, "Do you see yourself as a role model?" His answer was simple and clear:
"There are a lot of role models out there, there just aren't many good ones. To me, that's so frustrating because you have in today's society so many famous athletes in baseball and basketball and football and golf, every sport there is. If we come together to be great role models, it would be amazing to see how the next generation turns out."
Here's a bit from the news coverage of the event:
"I loved how genuine he was," said Tracy Cox of Santee. She attended the event with her extended family, who she described as football fans and Christians.
Her mother-in-law, Sharon Cox, added, "He loves the Lord so much, there's no embarrassment when he drops to his knees."
Just pause for a moment and consider those two words:
"No embarrassment."

That's high praise for any Christian.

Not embarrassed to be a Christian.
Not embarrassed by the criticism.
Not embarrassed to bow your knee and thank God publicly.

Then we have these words by the Danish philosopher Soren Kierkegaard:
"Now, with God's help, I will become myself."
When you know who you are, you can serve Christ anywhere.
Without God's help, you will never become who you were meant to be.
This is perhaps life's hardest question: "Do you know who you are?"
Until you do, you'll never really know where you fit in.
Once you know who you are, you can fit in anywhere.
You can read the rest of this message online.
You can reach the author at [email protected]. Click here to sign up for the free email sermon.
---
---