An Evening with Harry and Millie Bollback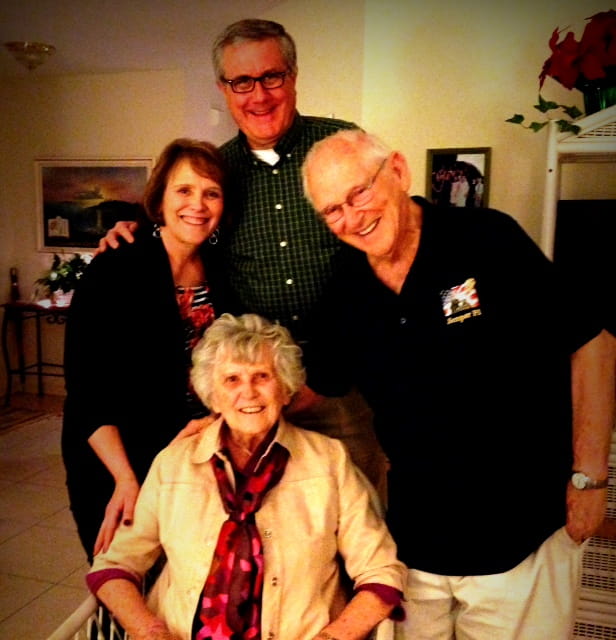 Tonight we had the awesome privilege of spending some time with Harry and Millie Bollback. If you know Word of Life at all, you know about Harry and Millie. Perhaps I can put it in perspective this way. Harry started working with Jack Wyrtzen in evangelistic meetings in 1941. As a teenager he played the piano while Jack preached the gospel in New York City. After serving with the Marines in the Pacific in World War II, Harry came back to the States and came back to work at Word of Life, which is where he met Millie who was serving as one of the secretaries at the office in New York City.

The rest is history, more or less. Throughout all the years, they have formed an inseparable team, spending years in Brazil and later starting the overseas ministry of Word of Life that now stretches around the world.

Tonight we enjoyed a special treat of "Millie's Funny Food" prepared by their daughter Elizabeth. We had bagels, cream cheese and lox, pickled herring, dill pickles, and few other delicacies. Harry called it a true Brooklyn feast.

To us, Harry and Millie are Word of Life. They represent the strong heart of this worldwide movement reaching young people for Christ. Harry told us that when he gets up in the morning, he looks in the mirror and says, "Lucky world! Here I come!" Millie beamed when he said it.

I've been watching Harry for many years. Though he will be 90 on his next birthday, he doesn't act his age. I hope he never does.

When Harry said, "Lucky world!" I thought to myself, "He's right." Lucky world that we should be blessed to know such wonderful friends as Harry and Millie Bollback.
You can reach the author at [email protected]. Click here to sign up for the free email sermon.
---
---