Adore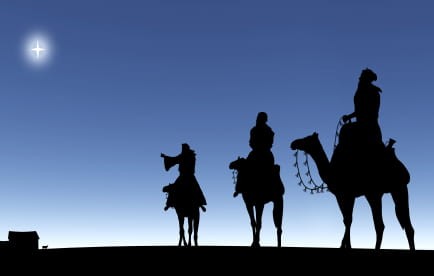 "We saw his star in the east and have come to worship him" (Matthew 2:2).
"O come, let us adore him."
What exactly does it mean to adore Christ? The word means more than simply approving of someone. It's much more than appreciation. Adore is an emotional word that speaks to the deepest commitment of my heart. There is no such thing as "neutral adoration." You adore something when you see its great value.
Adoration doesn't worry about what others think. The Wise Men weren't bothered by Herod's opposition or the indifference of the scribes. Having come a long way, they intended to present their costly gifts to the Lord Jesus. If we fast forward to the end of Jesus' life (John 12:1-8), we see Mary pouring the expensive nard on Jesus' feet and then wiping his feet with her hair. It was a provocative act, one that most of the disciples thought went too far. It was too extravagant, too public, too edgy. In ignoring the customs of her day, Mary shows us what it means to adore Jesus.
The devil hates extravagant worship. What happened after the Wise Men brought their gifts of gold, frankincense and myrrh to the baby Jesus in Matthew 2? In the very next passage Herod set out to kill the baby boys of Bethlehem.
Adoration is serious business, which is why the Wise Men show up at the beginning of Jesus' life and Mary shows up at the end.
I read about a king of Poland who carried with him a picture of his father. Whenever he was called to face a great challenge, he would look at the picture and pray that he might do nothing unworthy of his father's name. Beholding his father's face gave him courage to do what he had to do. It is the same in the spiritual life. We become like what we behold. That's why a familiar carol calls us to "come and behold him."
We come.
We behold.
We adore.
Perhaps you feel a bit overwhelmed on this Christmas Eve. You have lots to do and the hours are slipping away. I can't trim your to-do list, but I do suggest you take time to behold him. Christmas is all about Jesus. If we get everything else right and miss that, we've missed the whole point. But if you take some time right now to behold him, you will soon be "joyful and triumphant," just like the song says.
He is Christ the Lord.
He is true God of true God.
He is the Word of the Father.
Soon we will celebrate his birth. Don't get so busy that you forget what it's all about.
O come, let us adore him.
Shake us up, Lord, and wake us up so we won't be ashamed to let the whole world know how much we love you. Amen.
Musical bonus: Let's listen to a beautiful version of O Come All Ye Faithful by Celtic Woman.
Click here to sign up for the free email sermons.
---
---