40 Years of Free Bible Teaching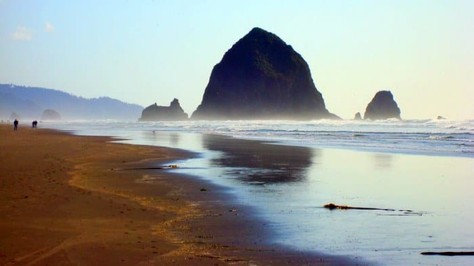 Haystack Rock at Cannon Beach
Our friends at Cannon Beach Conference Center in Oregon have put together an amazing online library featuring 8000 messages given at the conference center since 1974. The list of notable speakers includes names like
J. Sidlow Baxter
Ray Stedman
J. Vernon McGee
Lehman Strauss
Kay Arthur
Bruce Dunn
Stephen Olford
Stan Toussaint
Grady Wilson
and many, many more. You can find the messages online at the Cannon Beach Speaker Library. The library is searchable by speaker, title, date, series, or Bible text.
Best of all, it's free.
You can listen online or download the audio files to your laptop, your iPad or to your tablet or your smartphone.
I mention this for two reasons. First, I had a small hand in this project in that I encouraged Jeff Carlsen, the Executive Director of the conference center, to make these messages available. That meant having volunteers digitize their massive collection of CDs and cassette tapes. It took hundreds of hours of put this library together, but the result is a huge gift to the body of Christ worldwide.
Second, I mention this because I think is an idea worth duplicating. Many Bible conferences have closets and filing cabinets and boxes filled with CDs and cassette tapes and ancient reel-to-reel recordings that mostly just collect dust and eventually decay. Once lost, those recordings can never be replaced. Many of the speakers are now in heaven, but in the case of Cannon Beach, they still speak today.
Congratulations to Cannon Beach for having the vision to do this.
I wish all the other Bible conferences would do the same thing.
Meanwhile, go to the Cannon Beach Speaker Library and check it out.
---
---