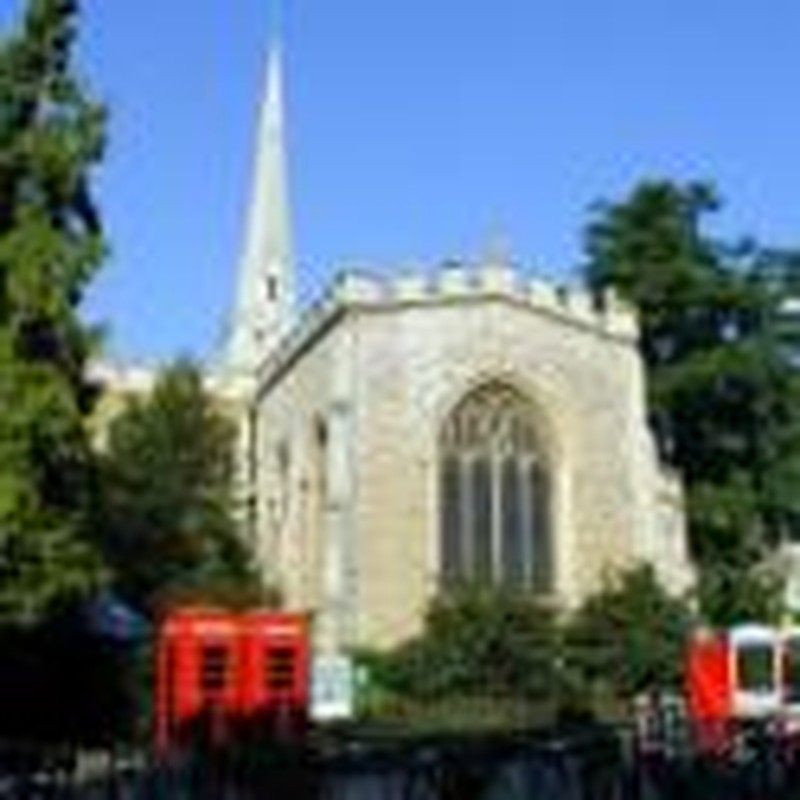 Charles Simeon was not your typical pastor. Although I wish he were. And his congregation, Holy Trinity Church on the campus of Cambridge University, was not your normal church. And I'm glad it's not.

Zoom in and you'll see what I mean.

Two hundred years ago, Cambridge students were required to attend church and, periodically, receive the Lord's Supper. Charles Simeon, a 1779 Cambridge freshman, was not a Christian but somehow understood the importance of communion.

To prepare himself, he purchased the only religious book he'd ever heard of: Whole Duty of Man. And, before long, he fell to his knees crying out for God's mercy. It was a true conversion from which Simeon would never recover.

Upon graduation, Simeon, with an assist from his influential father, was ordained and appointed Pastor of Holy Trinity Church at Cambridge.

It was Simeon's dream job... but not for long.

It's hard to imagine the isolation for an evangelical pastor in the halls of Cambridge during the late 1700's, just three years after his conversion.

Alone with his newfound faith, he wrote: "I longed to know some spiritual person who had the same views and feelings. I even considered putting an ad into the papers that would read, 'I'm a young clergyman who feels himself an undone sinner. I've looked to Jesus alone for salvation and I desire to live only to make the Savior known. I'm hopeful there is someone out there whose beliefs agree with mine. But after three years I've found none.'"

To make matters worse:
The congregation of Holy Trinity didn't want him as their pastor.
Church members boycotted his services and pew-holders locked their pews.
To provide seating, Simeon placed benches in the aisles but the wardens threw them out.
At times the church leaders locked the doors, preventing him from the services.
Rowdy university students protested Simeon's preaching with obscenities and riots, and Simeon was pelted with rotten eggs as he left church.
The faculty treated him with contempt. They slandered and ostracized him.
Why all this abuse? Because Simeon faithfully and consistently taught the truth of man's sinfulness and the bountiful forgiveness available in Christ.

But how much can one man take? Even godly pastors have a breaking point!

One day Simeon took a long walk into the woods to offer God his resignation: "I can't take it any more, Lord! I just can't!" Finding a stump to sit on, he randomly opened his Bible, hoping for divine confirmation. Instead, his Bible fell open to one, lone verse: "They found a man of Cyrene, Simeon by name, and forced him to carry Christ's cross."

Charles Simeon, an exhausted and defeated pastor, finally saw his situation through different eyes. "Lord, lay it on me; lay it on me! I will gladly carry the cross for Your sake."

Gradually the tide turned. Growing numbers of students, impressed by his courage, came to hear him speak. Pew-holders, amazed at his determination, reopened their pews. Fellow professors, curious about his tenacity and intellect, came to learn and admire.

For 54 years he remained pastor of Holy Trinity Church.

Finally, at age 77, Simeon was called into God's presence. He had become so loved that when he died all shops in Cambridge closed, university lectures were suspended, and mourners lined 4-deep all around the college, waiting to pay their final tribute to their faithful pastor.

Some pastorates are more difficult than others. Yours may be one of them. But, like Simeon, be willing to carry the cross for Christ's sake.
Blessings,
Ron Walters
Vice President of Church Relations
P.S. If you're looking for great preaching tools, don't forget Preaching Magazine. It's my favorite. Check it out at Preaching.com. Do your congregation a favor by subscribing. Copyright 2007 by Ron Walters.
Publication date: July 14, 2010