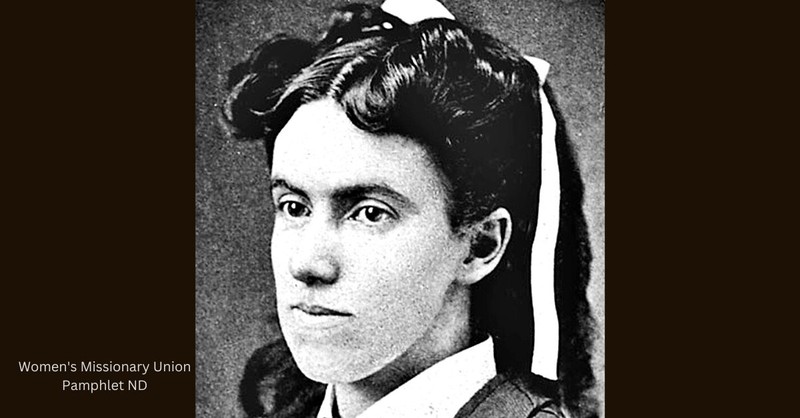 Charlotte "Lottie" Moon was a Southern Baptist born on December 12, 1840, in Virginia, who felt a calling later in her life from God to serve Him in China. Despite Lottie's parents being stern Baptists, she was not a Christian in her youth as she enjoyed Shakespeare more than the Bible.
She was always a "devilish" little girl and would be disrespectful to her parents and family. She was not converted until she was attending college. Lottie was a very smart girl and was gifted in the study of linguistics, which proved to help her in her missionary life.
Her sister, Edmonia Moon, was the one who originally had gone to China and while she was in China, she sent a letter back to their home church that China needed more harvesters, particularly asking that Lottie assist her because she knew Lottie would be a great help to the missions team.
Lottie was more than happy to go as she always had felt God was calling her to missions after her conversion, and she left for Tengchow, China, in 1873. Lottie had been proposed to prior to her departure to China; however, she declined the offer.
When questioned if and why she turned down the proposal, she stated, "Yes, but God had first claim on my life, and since the two conflicted, there could be no question about the result" (Uma Roberts Lawrence, Lottie Moon).
Lottie served a total of 39 years in China, and she saw the Chinese as her beloved friends as she grew to know them and love them. Edmonia Moon, Lottie's younger sister, did not stay very long in China and returned home, but Lottie continued on in the mission.
Lottie was in China during times of persecution, famine, war, drought, and the Boxer Rebellion, yet she never wavered in her faith, even after her beloved sister passed away back in Virginia.
Lottie helped in areas such as ministering to women, children, and even men if they would listen. She spoke out against foot binding for women and young children.
Lottie would, at times, be the only missionary serving and was left to run several schools by herself. She would use her own money to help with missions when the Mission Board had run out of funds and was in debt due to the ministry in China.
Towards the end of her life in China, there was a severe famine associated with the plague and the Boxer Rebellion in her beloved Pingtu and Tengchow, and she gave all her energy and funds to provide the natives and other missionaries with food and supplies.
The other missionaries had noticed that Lottie was losing a lot of weight during this time; however, they reasoned that it was due to the stress of the ministry and decided to send her home on furlough. Lottie died of starvation on the way back home.
She only made it to Japan, where she had the privilege to see her born-again Christian friends one last time before she would go to be with her Savior, the One she was so eager to tell all the lost souls about. Lottie died on Christmas Eve of 1912, and she left a lasting impact on China and the world.
Principles of Lottie Moon's Life
Lottie Moon crossed geographical and cultural boundaries to share the gospel. She also crossed her own cultural boundary by being raised in the southern parts of the United States to travel abroad to China to share the Gospel of Jesus Christ.
China has a completely different culture than America, and Lottie accommodated their culture by dressing as the Chinese did, learning their language, eating their food, and studying their cultural anthropology.
Even during times of hardship of physical and emotional pain, she kept her zeal for Christ. Even when her younger sister passed away, she kept her zeal for God and continued on in sharing the gospel despite her pain.
Lottie saw that all people need to be told the gospel, whether they are women or men or different races. All people are God's people, and He wants them to be all saved (2 Peter 3:9). She also believed that all people should be educated and have a chance to partake in a proper education.
The Chinese were very opposed to girls attending school. When Lottie had asked a man on the road if his daughter would care to join her and her students in education, the man replied, "My daughter, no. But my cow I will send, she can learn more quickly!" (Uma Roberts Lawrence, Lottie Moon).
This statement showed how little respect the men had for women's intelligence. Despite this negative view of women, Lottie believed that all people deserve a chance to hear the gospel.
She advocated against foot binding, pushed for a stronger education situation for young girls, and told the gospel to all who would listen.
She was also involved in the mission term known as tent-making. Lottie Moon always provided for her income through her work in this creative access land. She worked as a teacher in China, and she used this as a way to further the gospel.
When she was hired to be the schoolteacher of a Chinese school, the principal said she was allowed to use any book she wanted to use for the English class. Lottie chose the Bible, and all of the children were fascinated with the Bible.
Children would even ask Lottie if they could stop by her house on the way home from school for her to explain the Bible more in-depth to them. The principal of the school also was very interested in the Bible, and he was later converted by Lottie's teaching.
Lottie went to help the people in the 10/40 window. The 10/40 window is where most of the unreached people are living. As stated previously, Lottie served in China, and Asia is within this 10/40 window.
Only ten percent of missions go to the 10/40 window, which is why more missionaries need to be directed to this part of the world. Lottie followed the principle of attending to the needs of the unreached people in the 10/40 window, and she made a huge difference in their lives.
Lottie Moon would contextualize the gospel in a way for the Chinese to understand it without compromising or changing the Word of God. She was very successful in her tactic and brought many to faith in Jesus.
Contextualization can be tricky; however, if a person can do it correctly, as Lottie did, there will be numerous benefits.
She also extended great compassion for other people. Lottie Moon always had compassion for other people, especially for the Chinese. She saw them as sheep without a shepherd, and she led many of them to Christ.
She would never get upset with them or become indifferent to them. Instead, she showed Christ-like love to all of them, whether they were rich or poor. She had compassion for all people and loved them deeply.
This is the reason she was concerned for their souls; because she was compassionate and wanted them to turn to Jesus and be saved.
Following Biblical Teachings
She followed Paul's teaching of 1 Corinthians 9:22; "To the weak I became weak, that I might win the weak. I have become all things to all people, that by all means I might save some" (Eastern Standard Version). She became like the Chinese to win them.
She dressed as they did, and not only while she was with them but while she was by herself. All of the other missionaries would change to their normal attire, but Lottie would stay in her Chinese garb.
She became like one of them to gain their trust, and then she would open the gospel to them. She would speak to the Chinese women about their "gods," and these women would say that they could make their own gods from their hands.
When Lottie Moon saw this chance for evangelism, she informed them that you cannot make God with your own hands; rather, God made us, and she told them about Christ's sacrifice on the cross. Many of the women believed and were converted to Christianity through her ministry.
Lottie Moon also followed the Biblical principle of Proverbs 31:17; "She dresses herself with strength and makes her arms strong" (ESV).
Lottie always conducted herself in a manner worthy of Christ Jesus. After her conversion, she was no longer a deceitful child; rather, she had been transformed in her thinking to have herself reflect Jesus.
She was always strong for her tasks, even stronger than men, as in the case of going straight into Pingtu with no men missionaries to accompany her. As she stated, she knew God would be with her, and that is all she needed.
Her exact words were the following: "it is not fitting for us to trust men rather than God. What is there for me to fear if God be with me?" (Uma Roberts Lawrence, Lottie Moon). While it is hard for a person to transition into a new atmosphere, Lottie saw living in China as a way to serve Jesus.
Lottie followed the biblical principle of 1 Thessalonians 5:11, which states, "Therefore encourage one another and build each other up, just as in fact you are doing." Lottie was always building the Chinese up and teaching them in the Lord.
She never had a harsh word to say about her companions or to the Chinese. She loved everyone in the Lord and would point all people to Jesus, the Savior.
She always kept her joy, and she encouraged other Christians in the mission field by telling them to be joyful, courageous, and confident in the Lord.
Lastly, Lottie Moon completely obeyed the Great Commission by going to China to tell the lost world about the saving grace of Jesus. She crossed cultures and geographic lands to get the unsaved world to put their faith in Jesus.
As Christians, we are all responsible for obeying the Great Commission, just as Lottie Moon did. She trusted that God would protect her, and He did. During the time of Lottie Moon's ministry in China, the Boxer Rebellion was occurring, but she never let that frighten her.
She trusted God and His divine power. When all the other missionaries had fled Pingtu because of the Boxer Rebellion, she went back in to provide the injured citizens with medical help, and God protected her.
In truth, the only one we need is God, and He is the only one who will ever be able to give us eternal happiness with Him. Lottie Moon teaches us that God is all we need and that He will never abandon us in missions and in daily life. Mankind can and will fail you, but God never will.
For further reading:
Lottie Moon: The Southern Belle Who Went to China
10 Most Unreached Places in the World
What Is the Biblical View of Mission Work?
Photo Credit: ©Public Doman photo/Wikimedia Commons
---
Vivian Bricker loves Jesus, studying the Word of God, and helping others in their walk with Christ. She has earned a Bachelor of Arts and Master's degree in Christian Ministry with a deep academic emphasis in theology. Her favorite things to do are spending time with her family and friends, reading, and spending time outside. When she is not writing, she is embarking on other adventures.