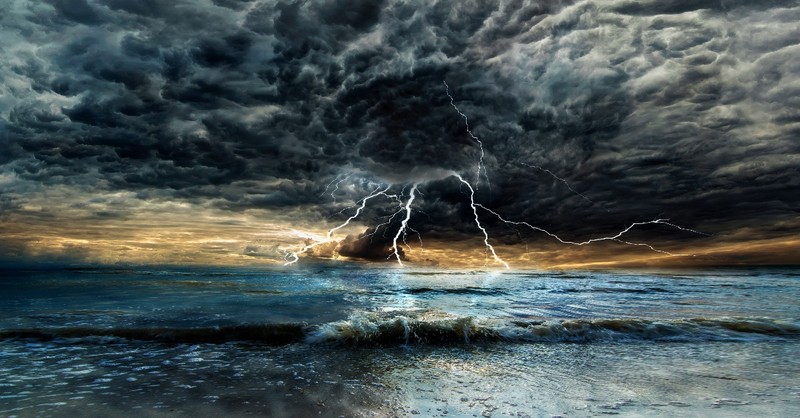 The significance of Jesus calming the storm is pertinent to what's happening in our world today and is evidence of God's love for us. COVID-19 has had a significant impact on our lives. We're flooded by numerous types of storms daily.
These storms are both internal and external. The intense surges of emotion within us are due to our humanity while the chaotic circumstances around us are beyond our control.
Right now, many can relate to the disciples' emotions when Jesus calmed the storm.
Suddenly
The Sea of Galilee is known for sudden raging storms, and many of Jesus' disciples were seasoned fishermen. So, it would seem the disciples would have been prepared. But things were happening beyond their control, or so they thought.
Suddenly a furious storm came up on the lake, so that the waves swept over the boat. But Jesus was sleeping. The disciples went and woke him, saying, "Lord, save us! We're going to drown!" (Matthew 8:24-25).
There have been many epidemics and even pandemics throughout history, and now we have many skilled scientists in the world. So, it seemed that we were prepared for COVID-19. But as country after country and state after state go into lockdown, the same fear and panic the disciples experienced looms over us.
So, when things come upon us suddenly, we find out what's in our hearts.
Being Human
Like the disciples, fear is coming out of many people's hearts. It's an emotion common to being human. One might say that the disciples were just being human. All of us during this pandemic are feeling our humanity deeply as fear sweeps across the world like a dark cloud.
But Jesus was human too. He often took time away to refresh. During the storm, Jesus was sleeping because he was exhausted from ministry.
The Bible tells us how important it is that Jesus was fully human.
For this reason he had to be made like them, fully human in every way, in order that he might become a merciful and faithful high priest in service to God, and that he might make atonement for the sins of the people (Hebrews 2:17).
It's significant that Jesus, as fully human and fully God, calmed a raging storm.
The men were amazed and asked, "What kind of man is this? Even the winds and the waves obey him!" (Matthew 8:27).
God Is Faithful and Merciful
When they got into the boat, the instructions were to go to the other side.
One day Jesus said to his disciples, "Let us go over to the other side of the lake." So they got into a boat and set out (Luke 8:22).
Jesus knew he was on a mission of mercy and that the Father was faithful to get him there, so he went to sleep. It was such a deep sleep that the storm didn't disturb him — just like in another mission of mercy in the Old Testament.
But Jonah had gone below deck, where he lay down and fell into a deep sleep. The captain went to him and said, "How can you sleep? Get up and call on your god! Maybe he will take notice of us so that we will not perish" (Jonah 1:5-6).
Jonah had also been sent on a mission of mercy but rebelled.
In both situations, we see the faithfulness and mercy of God completing the mission to save. In the case with Jesus and the disciples, it was to save the demon-possessed man on the other side of the Sea of Galilee. In the case of Jonah, it was for him to go preach to Nineveh so they'd repent and be saved by God.
Jonah ran away because he knew God was merciful. His faith in God's mercy is what made him run away.
After Jesus calmed the storm, he asked the disciples a question.
He got up and rebuked the wind and the raging waters; the storm subsided, and all was calm. "Where is your faith?" he asked his disciples (Luke 8:24-25).
Where Is It?
A good question for us to ask ourselves as COVID-19 rages is, where is our faith?
The disciples spent a lot of time with Jesus and saw him perform many miracles. You would think that they'd have a lot of faith. But in their humanity, it became evident they had more faith that the storm would destroy them than in Jesus saving them.
Jesus may have rebuked the disciples for their weak faith, but he didn't abandon them to let them drown. Instead, he calmed the storm and then continued to teach them who he was and demonstrated what it was to have faith in God.
Do we have more faith in the pandemic than in the mercy and grace of God? There is not a disease that Jesus was unable to heal.
If the fear in us is stronger than our faith, we can turn to God and he'll teach us because his mercy endures forever
Feeding on God's word will build your faith and calm the storm raging within you.
©iStock/Getty Images Plus/slavasam777
---
Danielle Bernock is an international, award-winning author, coach, and speaker who helps people embrace their value and heal their souls through the power of the love of God. She's written Emerging With Wings, A Bird Named Payn, Love's Manifesto, Because You Matter, and hosts the Victorious Souls Podcast. A long-time follower of Christ, Danielle lives with her husband in Michigan near her adult children and grandchildren. For more information or to connect with Danielle https://www.daniellebernock.com/