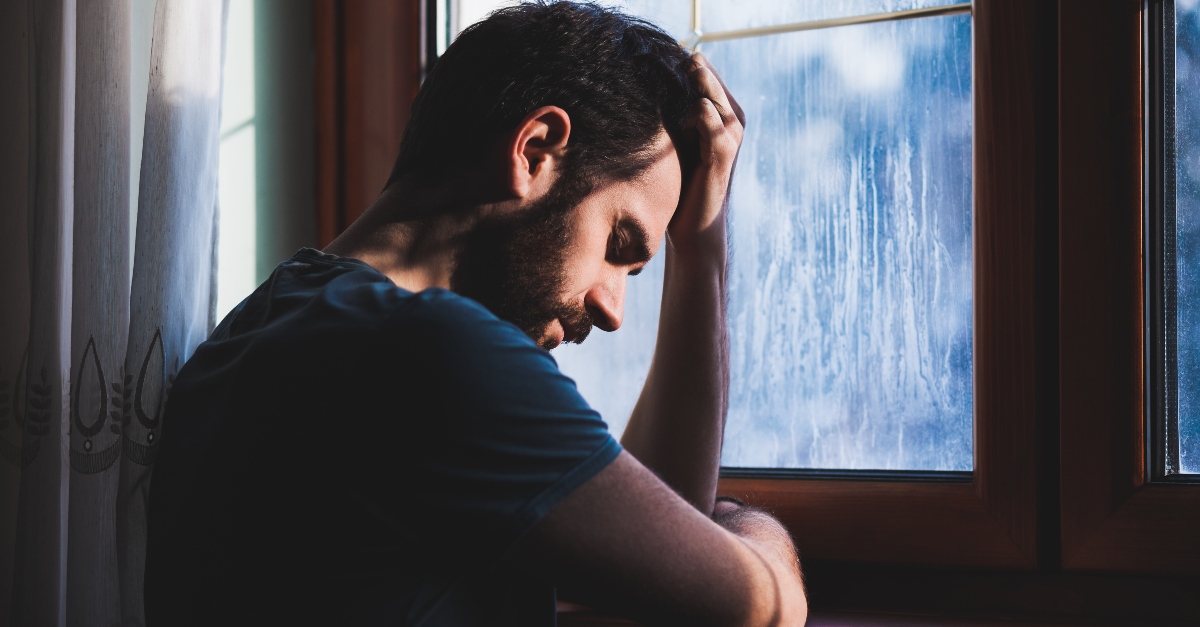 The story of Peter's threefold denial of Christ is found in all four gospel accounts: Matthew 26:69-74, Mark 14:66-72, Luke 22:55-62, and John 18:15-18, 25-27.
Weakness and Fear Led Peter to Deny Jesus
Peter's denial was based on weakness and fear. After the Last Supper, Jesus took the disciples to the Garden of Gethsemane to await His arrest. There Jesus told them to be alert and prayerfully while He went off to pray by Himself. When Jesus returned to them, He found the disciples sleeping. Jesus warned Peter to stay awake and pray because the spirit was willing, and the flesh was weak.
Peter, despite this warning, fell asleep, and by the time the soldiers had come to arrest Jesus, it was too late to pray for the strength to endure the trial ahead. Later, after Peter was restored, he urged Christians to be alert in 1 Peter 5:8. Peter's weakness caused him to be devoured temporarily as he denied the Lord three times because he wasn't prepared in prayer and underestimated the extent of his weakness.
Peter's weakness wasn't only not praying; he was fearful. Even though all the other disciples fled (Mark 14:50) to his credit, Peter still followed Jesus after his arrest, at a distance (Mark 14:54). From the courtyard, Peter watched Jesus being falsely accused, beaten, and insulted (Mark 14:57-66). Peter was afraid Jesus would die, and now he was fearful for his life. Peter quickly would learn he was not as courageous nor as bold as he had proclaimed, and he denied Jesus three times.

Jesus revealed to Peter that Satan had asked for permission to sift Peter like wheat (Luke 22:32). Jesus could have easily protected Peter and not allowed Satan to sift him, but the Lord Jesus wanted to equip Peter to strengthen the disciples of the Lord (Luke 22:32). Not only did Peter strengthen the other disciples of Jesus, but he became the pillar of the early church and trained others to follow Jesus (Acts 2).
Peter, today, continues strengthening the people of God through his two epistles, 1 and 2 Peter. With all of our failures, the Lord God used Peter's, including his three denials of Christ, to turn him from Simon, an ordinary man, into Peter, the Rock.
The Story Behind Peter's Denials
Simon Peter and the Apostle John followed the band of soldiers and religious leaders who arrested Jesus to the "courtyard of the high priest" (John 18:15). There at the courtyard, a servant girl asked Peter if he was a disciple of the Lord Jesus, and he denied he was (John 18:16-18). More than one figure posed the same question to Peter again for John reports, "they" asked Peter whether he was one of the disciples of Jesus (John 18:25). Peter denied knowing the Lord Jesus a second time (John 18:25). Soon after, Malchus stated, he saw Peter in the Garden with the Lord Jesus (John 18:26). Peter then denied Jesus a third time, just as the Lord Jesus predicted (John 18:27).
Peter's Denials and Christ's Testimony
John moves his readers back and forth between Peter's denials and the testimony of Christ before Annas to help readers see a stark contrast between the Lord and Peter. Jesus did not back down when He was on trial but stood up to the high priest and his court (John 18:19-24).
Peter could not bear witness to the truth under these conditions, for he was not questioned by a person with authority like the high priest but only by servants. Peter was not facing death (John 18:17-18, 25-27). Jesus could stand for justice against the powerful even when He knew it would cost Him His life, whereas Peter could not.
Peter faces the testimony of three observers like Jesus (Matthew 26:57-64; 69-74), but this is where the similarity between the two trials end. Christ continued to affirm the truth of who He is and what He came to do to influential men. Peter denies the truth of who Jesus is before female servants. Peter fulfills Jesus' prediction and denies the Lord three times because he relies on his power, not on the Spirit of God.
Peter's Restoration to Gospel Ministry
Peter is not without hope, for though he sinned greatly, his tears (Matthew 26:75) and later restoration (John 21:15-19) show a repentant heart. No matter how much we have sinned, nor how deep it is, it is never too late to return to the Lord, for He mercifully forgives, without exception, those who are repentant over their sins.
John 21:15-17 tells the story of Peter's restoration to the ministry by the Lord Jesus. After the disciples of Jesus finished eating breakfast on the shore of the Sea of Tiberias, Jesus asked Peter three times whether he loved Jesus "more than these." The question is significant because, in the gospels, we learn that Peter was quick to speak and to act in a display of love and honor of Jesus (Matthew 16:13-19).
Jesus posed the question three times to Peter, which parallel the Apostle Peter's earlier three denials. Just as Peter denied the Lord Jesus three times, so now Peter would be required to confess Jesus three times. Jesus tells Peter in three different ways in John 21:15-19 to feed and take care of the sheep given to Him.
Jesus gave Peter the duty of shepherding the people of God, to teach them biblical truth that feeds their souls. The commission given to Peter here is not limited to him but extended to all the apostles. Later, Peter explains this commission is also given to elders (1 Peter 5:1-4). Church officers are to care for Christians, knowing that they belong ultimately to Christ and that they need the truth of God's Word for their good.
Jesus asks Peter, "Do you love me?" Christians must answer this question, apart from which no further advance can be made in discipleship to Him. Jesus doesn't ask, "Do you love me perfectly?" or "Do you love me as I deserve?" in which case, all sinners must be turned away.
Why Does This Matter?
Jesus asks for our love. If we belong to Jesus, then like Peter, even filled with self-doubt and shame, we may answer, "Lord, you know. You know all my failings, all my weaknesses, and all my needs. But you also know that, Yes, I do love you." Here the point is that such a desire to love Jesus better and more completely is a longing to love Him as He deserves to be adored by His redeemed people.
The way to love Jesus more fully is to spend time with Him since we long to be with those we love. Let us be eager to open up the Word of Christ and be fervent in the opening of our hearts in prayer. William Cowper (Hark, My Soul, It is the Lord!" (1768)) echoes this desire:
Lord, it is my chief complaint. That my love is weak and faint; Yet I love Thee and adore, Oh! For grace to love Thee more!
©iStock/Getty Images Plus/Marjan_Apostolovic
---
Dave Jenkins is the Executive Director of Servants of Grace Ministries, the Executive Editor of Theology for Life Magazine, and the Host of the Equipping You in Grace Podcast and Warriors of Grace Podcast. He received his MAR and M.Div. through Liberty Baptist Theological Seminary. You can follow him on Twitter at @davejjenkins, find him on Facebook at Dave Jenkins SOG, Instagram, read more of his writing at Servants of Grace, or sign to receive his newsletter. When Dave isn't busy with ministry, he loves spending time with his wife, Sarah, reading the latest from Christian publishers, the Reformers, and the Puritans, playing golf, watching movies, sports, and spending time with his family.