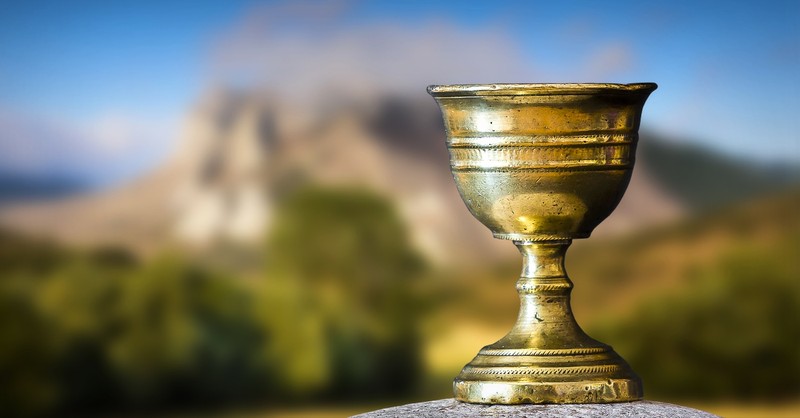 In the Garden of Gethsemane, the gospels record an episode between Jesus and the disciples just before the arrest of Jesus, where Jesus prays three times (Matthew 26:39), which reveals Jesus' mindset before the crucifixion and His submission to the will of God.
The Meaning of the Cup of Suffering
The cup spoken of by Jesus is the suffering He was willingly going to endure shortly. Jesus is fully God and fully man. In His sinless human nature, Jesus still struggled with the need to accept torture and shame that awaited Him. As a result, His flesh recoiled from the Cross.
In the same context of the Garden of Gethsemane, Jesus says in Matthew 26:38, "Then he said to them, 'My soul is very sorrowful, even to death; remain here, and watch with me.'" Luke, the physician, observed that Jesus was sweating blood — a sign of extreme anguish (Luke 22:44), which shows that Jesus was indeed fully man (while remaining fully God) during His prayer in the Garden of Gethsemane.
Jesus was not fooled by what was about to happen in His suffering before and during the Cross (Mark 8:31). The agony Jesus was about to face was more than physical; it would be emotional and spiritual also.
Jesus fully knew that the will of God was going to crush Him, to allow Him to be "pierced for our transgressions" (Isaiah 53:5-10) for humanity's sin so they could be at peace with God (Romans 5:1-5). Jesus loves humanity, but in His humanity, He dreaded the pain and sorrow He faced and drove Him to pray, "Let this cup pass from me."
The Meaning of Jesus' Prayer in the Garden
Jesus' prayer to "remove this cup from me" (Luke 22:42) contains two essential qualifications and contextual meaning. First, He prays, "If you are willing" (Luke 22:42). If there was any other way to redeem humanity, Jesus asks to take that other way. The events following His prayer show that there was no other way; Jesus Christ is the only possible sacrifice to redeem the world (John 1:29; Acts 4:12; Hebrews 10:14; Revelation 5:9).
Second, Jesus prays, "not my will, but yours, be done." Jesus was committed to the will of God, body, mind, and soul. The prayer of the righteous is always dependent on the will of God (Matthew 6:10).

In Gethsemane, Jesus demonstrated what submission to the Father looks like through earnest, intense, and willful submission to the plan of God. When we face trials, Jesus knows what we are going through because He experienced the full range of human temptation and weakness, but never sinned.
Such truth is comforting because Jesus is our faithful High Priest who ever lives to make intercession for His people and summons them before His throne of grace (Hebrews 2:17-28; 4:14-16). Jesus came to "seek and to save the lost" (Luke 19:10), and He accomplished that mission at the costly sacrifice of His life, drinking the cup of suffering to the end of His life.
Obedience to God through Christ
Obedience to Jesus is not a suggestion; it is a command made possible because of the finished and sufficient work of Jesus and the indwelling Holy Spirit. The Bible promises a blessing for obedience and curses for disobedience (Deuteronomy 28).
Hebrews 12:6 also teaches that the Lord disciplines His sons and daughters whom He loves. Nothing reveals the particular contrast as does the first Adam in the Garden of Eden and the obedience of the last Adam, Jesus Christ.
The first rejection of the revealed will of God occurred in Eden when Adam broke God's law and ate from the forbidden fruit from the tree of the knowledge of good and evil. Humanity from thenceforth was sinners by nature (Psalm 51:5) and choice (Romans 3:9-26). A millennia later, Jesus Christ, the last Adam, chose in the Garden of Gethsemane to obey the Lord God, the consequences of which would be the struggle for the salvation of the people of God.
The Struggle of Jesus in the Garden of Gethsemane
We read of the struggle of Jesus in Mark 14:32-36. Jesus' submission to the Father was not easy; it was a struggle. Our Savior Jesus wrestled with the choice before Him in the Garden and begged that the cup pass from Him.
He was so distressed emotionally that He sweated blood (Mark 14:35-36; Luke 22:39-46). Such truth reveals that the trial of Jesus was not merely physical in nature, but He was in turmoil because He would bear the divine wrath of His Father to atone for His people.
The God-Man, pure and sinless, was going to become sin itself so that, in Him, His people might become the righteousness of God (2 Corinthians 5:21). Jesus was going to suffer the full weight of all the sins of His people.
As such, He was going to experience separation from God's blessing that sinners endure in hell. There is little wonder then that Jesus asked for another way to bring about the salvation of the people of God.
The Full Humanity of Jesus in His Suffering
Jesus' prayer in Gethsemane reveals the humanity of Jesus. Jesus was the Son of God, and as such, knew the Cross was the only way to save His people. According to His humanity, Jesus asked if there was any other way because it was such a high cost for Him to die. In this, Jesus did not sin, for He committed Himself to follow the revealed will of God even if it would cost Him His very life (Mark 14:35-36). Jesus did not ask the cup be removed out of disobedience, nor from a refusal to obey the Father, for He was willing to obey the Father no matter what it would take.
Jesus and the Suffering of Christians Today
Throughout the Gospel of Mark, we read how the disciples failed to understand the message of Jesus (Mark 6:45-52; 8:14-21; 9:30-32). Mark 10:35-37 gives more evidence that the disciples were slow to understand Jesus' teaching, for Mark records the daring request of the sons of Zebedee, James, and John, made to Jesus as they traveled from Galilee to Jerusalem.
Mark 10:35-37 is where the sons of Zebedee request to sit at the left and right of Jesus' places of honor in the Kingdom of God. Such a question reveals their failure to understand Jesus' teaching on discipleship, for true disciples of Jesus do not look to advance their honor or fame, but the fame of God. Jesus calls His followers to come to Him with humility as little children who know they don't have anything to offer to Him but their lives (Mark 9:33-37; 10:13-16).
Christ did not immediately rebuke these sons of Zebedee but questioned whether they were qualified to hold such a position. He asks them whether they would be able to drink the cup and be baptized with the baptism He was about to experience (Mark 10:38).
The image of the cup in that the Old Testament represents can symbolize God's blessing. In the majority of references, the cup, though, represents the Lord's judgment and wrath on wickedness (Psalm 75:8; Isaiah 51:22). In Mark 10:38, the cup has negative connotations, which is why it represents the cup of divine wrath Jesus would drink on behalf of His people to save them from their sin.
We expect James and John to answer, "No, Lord, we can't drink your cup." Christ's question in the original Greek is phrased in such a way to make clear a negative answer is expected. Even so, when James and John told Jesus they could drink His cup and endure His baptism, our Savior agreed they would drink His cup and receive His baptism (Mark 10:38-39).
Christ was not indicating they would atone for people's sin. Instead, Jesus was pointing out they would share in the suffering of Christ in their service to Him, which He was about to endure in Jerusalem.
Christians today should not worry whether they will have honor and glory in this life or in the life to come. The most honored in the Kingdom of the Lord Jesus will be those who have suffered the greatest for Jesus' name. As we suffer for Jesus, let us remember as the people of God that such suffering will lead to honor in His Kingdom. Suffering represents faithfulness to God, and it is faithfulness to God that Jesus fully exemplified and now empowers His people to do in like manner.
©iStock/Getty Images Plus/Lord_Kuernyus
---
Dave Jenkins is happily married to Sarah Jenkins. He is a writer, editor, and speaker living in beautiful Southern Oregon.