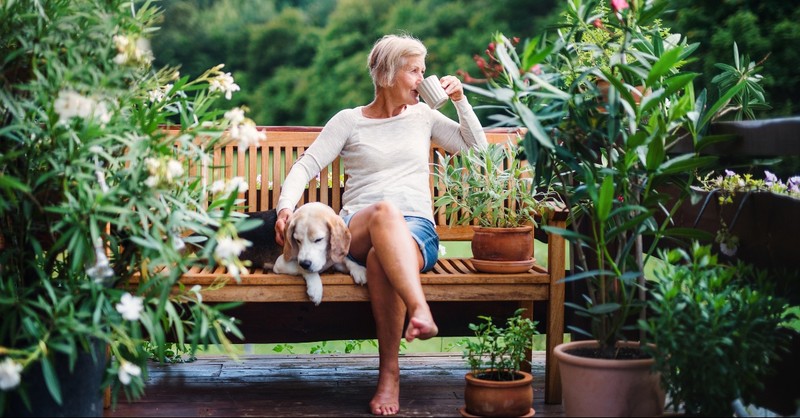 Some consider pleasure to be an evil thing associated only with sin in the Bible. But is this true? Is pleasure always bad? Is God opposed to pleasure? The quick answer is no. However, to fully answer this question we'll look at what pleasure is, and what the Bible has to say about it.
What Is Pleasure
Simply put, pleasure is an emotion that feels wonderful. It's the feeling of internal happiness and deep satisfaction. When we are experiencing pleasure, we are enjoying something.
A few synonyms for pleasure are: Delight, joy, gladness, glee, gratification, fulfillment, and contentedness.
Pleasure is something we can take, as well as something we can give. This means that pleasure is also something we can share.
God experiences pleasure, and from creation, he empowered humanity to share it with him. This ability to feel pleasure is a gift from God.
God Gives Us Pleasure
Before he even created humanity, God filled his creation with pleasure for us to enjoy.
The LORD God made all kinds of trees grow out of the ground — trees that were pleasing to the eye and good for food. In the middle of the garden were the tree of life and the tree of the knowledge of good and evil (Genesis 2:9).
The trees were beautiful on purpose and he gave all but one of them to Adam and Eve to enjoy. In 1 Timothy 6:17, it tells us that it's God who not just gives, but "richly gives all we need for our enjoyment."
David tells us about a profuse amount of pleasures to be found in the very presence of God.
You make known to me the path of life; in your presence there is fullness of joy; at your right hand are pleasures forevermore. (Psalm 16:11, ESV).
Jesus' disciple, Peter, writes about a joy that is beyond words and is glorious,
Though you have not seen him, you love him; and even though you do not see him now, you believe in him and are filled with an inexpressible and glorious joy (1 Peter 1:8).
God not only gives us things to enjoy (or take pleasure in) but also empowers us with his own pleasure for us. In Nehemiah 8:10, it's called the joy of the LORD.
Nehemiah said, "Go and enjoy choice food and sweet drinks, and send some to those who have nothing prepared. This day is holy to our Lord. Do not grieve, for the joy of the LORD is your strength."
How God Enjoys Pleasure
Many scriptures reveal to us how God enjoys pleasure or takes delight:
The LORD takes pleasure in his people; he honors the humble with victory. (Psalm 149:4, GNT).
…but let him who boasts boast of this, that he understands and knows Me, that I am the Lord who exercises lovingkindness, justice and righteousness on earth; for I delight in these things," declares the Lord (Jeremiah 9:24).
"Behold, My Servant, whom I uphold; My chosen one in whom My soul delights. I have put My Spirit upon Him; He will bring forth justice to the nations… (Isaiah 42:1).
"For the LORD your God is living among you. He is a mighty savior. He will take delight in you with gladness. With his love, he will calm all your fears. He will rejoice over you with joyful songs." (Zephaniah 3:17, NLT).
And God declared his pleasure in Jesus before he had done any miracles.
And a voice from heaven said, "This is my one dear Son; in him I take great delight" (Matthew 3:17, NET).
Clearly, God is not opposed to pleasure. Pleasure itself isn't the problem.
When Is Pleasure a Problem
We are created in the image and likeness of God for the purpose of enjoying fellowship with God. Sin entered the world and disrupted this divine relationship.
Before the foundations of the earth, God made provision for us to take part in the joy of this fellowship despite sin.
The key component is our choice.
Pleasure becomes a problem when we choose it over God.
…lovers of pleasure rather than lovers of God (2 Timothy 3:4).
This is what happened in the garden and sin is just as enticing today.
Jesus warned how misplaced pleasure will cause loss.
The seed which fell among the thorns, these are the ones who have heard, and as they go on their way they are choked with worries and riches and pleasures of this life, and bring no fruit to maturity (Luke 8:14).
He also drew a clear line between himself and our enemy.
The thief comes only in order to steal and kill and destroy. I came that they may have and enjoy life, and have it in abundance [to the full, till it overflows] (John 10:10, AMP).
God is not opposed to pleasure. He is opposed to us choosing sin over him and suffering loss.
Take the Pleasure God Has for You
God loves us and wants to be our source of pleasure. Sin brings grief and God's salvation is the remedy that brings joy. Titus records it well,
At one time we too were foolish, disobedient, deceived and enslaved by all kinds of passions and pleasures. We lived in malice and envy, being hated and hating one another. But when the kindness and love of God our Savior appeared, he saved us, not because of righteous things we had done, but because of his mercy. He saved us through the washing of rebirth and renewal by the Holy Spirit, whom he poured out on us generously through Jesus Christ our Savior, so that, having been justified by his grace, we might become heirs having the hope of eternal life. This is a trustworthy saying. And I want you to stress these things, so that those who have trusted in God may be careful to devote themselves to doing what is good. These things are excellent and profitable for everyone (Titus 3:3-8).
King David was known as the man after God's own heart and understood God is our source of true pleasure and satisfaction.
Take delight in the LORD, and he will give you the desires of your heart (Psalm 37:9).
Photo Credit: ©iStock/Getty Images Plus/Halfpoint
---
Danielle Bernock is an international, award-winning author, coach, and speaker who helps people embrace their value and heal their souls through the power of the love of God. She's written Emerging With Wings, A Bird Named Payn, Love's Manifesto, Because You Matter, and hosts the Victorious Souls Podcast. A long-time follower of Christ, Danielle lives with her husband in Michigan near her adult children and grandchildren. For more information or to connect with Danielle https://www.daniellebernock.com/