One of the most common questions asked by people from all over the world of all ages is the question of "why." But most people do not ask "why" when something good or convenient happens — they just accept it and move on as if it was supposed to be that way anyway. Instead, our "why" questions are normally followed by something inconvenient, unfortunate, or even tragic that happened that we are trying to understand.
Sometimes the question is framed like this: "why do bad things happen to good people?" In fact, I have personally seen or heard this question or something very similar asked dozens of times throughout my life.
And while asking the "why" question is not wrong (actually, it is often the best question to ask because it positions us to figure out the cause of something), it can get us into trouble when our motivation for asking it is because we feel that whatever happened should not have happened or we feel that we did not deserve what happened.
This especially happens for professing Christians that assume that because they are trying to follow God or at least doing some religious things, God is supposed to respond by allowing more good things to happen than bad things.
Will Good Things Happen if I'm Following God?
Before we can even talk about the answer, we need to critique the question. There are three potential problems with the question, "Does following God mean that good things will happen."
Firstly, we are not always the best judges of what is "good" or "bad" for us. For example, an event that we might initially consider "bad" because it was inconvenient or unfortunate (such as the loss of a job) might turn out to be very "good" for us (because it freed us up to find an even better job).
Secondly, because we live in a sinful, broken world, all of us have lives full of trouble and struggle, and even tragedy. In fact, because we are sinful people with sinful hearts living inthat sinful, broken world, we all deserve much more "bad" to happen to us than it does.
We ultimately deserve the punishment of hell because of our sins, but because of God's common grace, we have so many good yet undeserved blessings in this life, and because of his special grace, we get forgiveness of sin and a home in heaven.
Thirdly, an honest evaluation of the New Testament scriptures shows us that Jesus never promised that his followers would have only (or even more) good things happen to them; the truth is quite the opposite. Jesus lived a perfect, sinless life and had to deal with sickness, grief, great pain and suffering, persecution, and death.
And in the midst of it all, he told his followers that "'a servant is not greater than his master.' If they persecuted me, they will also persecute you" (John 15:20, ESV).
This was not metaphorical either because, as the author, Zane Pratt put it, "The first followers of Jesus consistently experienced suffering for the sake of Jesus... Paul went through horrible suffering, as did the other apostles." He goes on to extrapolate that "suffering and opposition are a normal part of the normal Christian life."
So now that we can frame the question a little better in our minds, let's deal with it: does following God mean that good things will happen? The best answer is no... and yes!
By no, I mean that in this life on earth (just as we have already clearly explained), we will have all kinds of inconveniences, struggles, pains, and tragedies. It is sadly part of the reality that we live in. But those things are somewhat "normal" occurrences in our fallen world.
Christians must also face trouble that is inflicted upon them by others. In fact, as the aforementioned author explains, "The comfortable experience of Christians in the West has actually been an anomaly in this regard."
From what he has seen, the majority of Christians that do not live in the more comfortable, somewhat "protected" western culture may actually live lives with even more "bad" than "good."
For example, in Islamic and Hindu communities, following Jesus means losing your job, being disowned by your family, being put in prison, being beaten, or even being killed.
How Does This Apply to Us Today?
This experience by many Christians today is much more similar to what Jesus, Paul, and the rest of the First Apostles experienced than many believers in America today.
But the other half of my answer to the question of "does following God mean that good things will happen" is yes. By that, I mean that God has a way of taking even the events that are inconvenient, unfortunate, and even tragic and using them for something good in our lives.
Maybe that "good" will be obvious and soon, or maybe it will be so subtle that we never even recognized it. God sees the big picture and knows the end just as he does the beginning, which gives him the ability to weave together an amazing story of "good" out of what we consider as "bad."
The story of Joseph in the Book of Genesis is a perfect example of this. Joseph's life was a roller coaster of favor versus disappointment. As a young man, he was ridiculed and thrown into a cistern and essentially left for dead.
Then he was enslaved and taken far away from his home. Later, he was thrown in prison and forgotten for something he didn't even do. But eventually, God used all of those experiences to mold Joseph's heart and position him in a place of incredible wealth and power so he could help countless other people.
And that is the kind of God we serve — one who is able to take even the bad and turn it into good. Because of that, we can, like Joseph, look back over our life and consider that no matter what evil happened to us, we can be confident that "God meant it for good" (Genesis 50:20, ESV).
The late pastor Alan Redpath put it like this in a devotion I read recently: "There is nothing, no circumstance, no trouble, no testing, that can ever touch me until, first of all, it has gone past God and past Christ, right through to me. If it has come that far, it has come with a great purpose, which I may not understand at the moment, but as I refuse to become panicky, as I lift up my eyes to him and accept it as coming from the throne of God for some great purpose of blessing to my own heart, no sorrow will ever disturb me, no trial will ever disarm me, no circumstance will cause me to fret, for I shall rest in the joy of what my Lord is — that is the rest of victory!"
What Does This Mean?
The even better news is that the "yes" answer to our question does not end there. The final outcome for Christians is not just good; it is great! Here is how Jesus worded it (which should be an encouragement to anyone enduring hardships because of their Christianity):
"Truly, I say to you, there is no one who has left house or wife or brothers or parents or children, for the sake of the kingdom of God, who will not receive many times more in this time, and in the age to come eternal life" (Luke 18:29-34, ESV).
Paul the Apostle, in the midst of his own suffering, wrote this: "Yet what we suffer now is nothing compared to the glory he will reveal to us later. For all creation is waiting eagerly for that future day when God will reveal who his children really are" (Romans 8:18-22, NLT).
In light of this wonderful explanation, Paul goes on to say this well-known verse: "And we know that for those who love God all things work together for good, for those who are called according to his purpose" (Romans 8:28, ESV).
So, Christian, may we prepare our minds for the inevitability of the "bad" that we will experience in this life while clinging to the glorious hope of the "good" that God will deliver to us at the end!
For further reading:
How Can God Make Good What Was Meant for Evil?
Why Do Bad Things Happen to Good People?
What Did Jesus Mean That We Will Have Trouble in This World?
Photo Credit: ©iStock/Getty Images Plus/Poike
---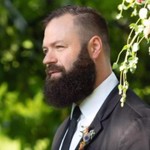 Robert Hampshire is a pastor, teacher, writer, and leader. He has been married to Rebecca since 2008 and has three children, Brooklyn, Bryson, and Abram. Robert attended North Greenville University in South Carolina for his undergraduate and Liberty University in Virginia for his Masters. He has served in a variety of roles as a worship pastor, youth pastor, family pastor, church planter, and now Pastor of Worship and Discipleship at Cheraw First Baptist Church in South Carolina. He furthers his ministry through his blog site, Faithful Thinking, and his YouTube channel. His life goal is to serve God and His Church by reaching the lost with the gospel, making devoted disciples, equipping and empowering others to go further in their faith and calling, and leading a culture of multiplication for the glory of God. Find out more about him here.