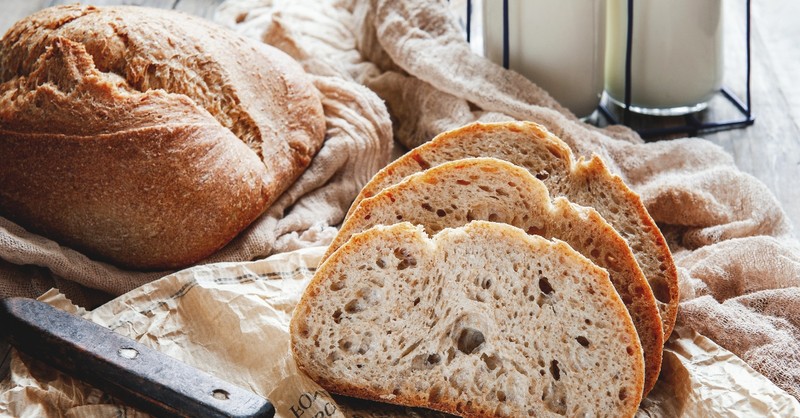 When my husband and I were first married (and I was learning to cook — gulp!), occasionally dinner would turn out less than recognizable. On evenings like this, he would turn to me and say, "Manna?" Because manna in Hebrew means, "What is it?!"
During the time the Israelites wandered in the desert, the Lord provided for them through a miraculous food substance that came with the morning dew and looked like frost on the ground. Exodus 16:31 describes it as something like "coriander seed, white, and its taste was like wafers and honey."
This sustenance was unique in the manner and timespan the Lord used it in the lives of the Israelites, but the spiritual concepts involved with manna extend to believers today.
The Manner of Manna
Manna appeared as a provision for the Israelites during a time when they could not farm because they had not yet come to the land that was to be theirs. God was teaching and purifying the people; readying them for their land of Promise. Until they were ready to set foot in a new season of promise, this time of purification required His provision for their earthly needs in unique ways.
Not only did God deliver food to their doorstep during this season but He also miraculously kept their clothes from wearing out.
I have led you forty years in the wilderness; your clothes have not worn out on you, and your sandal has not worn out on your foot. You have not eaten bread, nor have you drunk wine or strong drink, in order that you might know that I am the Lord your God (Deuteronomy 29:5-6).
The purpose of the manna provision was to help the Israelites know the Lord. Slavery had been a hard experience. Many of us know how the darkness of another's sin can skew our understanding of God's character. The desert season was an intimate time for the Lord with His people. So that they would know Him. No taskmasters. No distractions of keeping up with daily chores. No demanding bills to pay. Just simple experiences of trust and provision.
Whenever God provides for us, it is meant to be a tangible revelation of His character. We are wise to regularly consider all His many provisions and reflect on the relationship He is building between us.
The Mandates of Manna
Then the Lord said to Moses, "Behold, I will rain bread from heaven for you; and the people shall go out and gather a day's portion every day, that I may test them, whether or not they will walk in My instruction. On the sixth day, when they prepare what they bring in, it will be twice as much as they gather daily." So Moses and Aaron said to all the sons of Israel, "At evening you will know that the Lord has brought you out of the land of Egypt; and in the morning you will see the glory of the Lord, for He hears your grumblings against the Lord; and what are we, that you grumble against us?" (Exodus 16:4-7).
The provision of the Lord was to be gathered daily, with the only exception for the preparation of the Sabbath. If the Israelites gathered more than they needed, it would rot and turn into a disgusting mess inside their tent.
As believers, we are instructed to pray for our daily bread (Matthew 6:11). We can get so easily caught up in retirements and saving plans (that are good and wise) but at the end of the day, daily bread reminds us who does the real providing for us.
Daily bread reminds us of what is important and purifies our focus in this life.
For we have brought nothing into the world, so we cannot take anything out of it either. If we have food and covering, with these we shall be content. But those who want to get rich fall into temptation and a snare and many foolish and harmful desires which plunge men into ruin and destruction. For the love of money is a root of all sorts of evil, and some by longing for it have wandered away from the faith and pierced themselves with many griefs (1 Timothy 6:7-10).
A spiritual principle for our manna is that it isn't meant to be hoarded. Just like the Israelites were instructed to only gather enough for that day, we are wise to be mindful of how we gather God's provision.
The Israelites were also instructed to rest one day a week. This was for their fruitfulness. Rest requires we trust that God will provide for us. When we rest, it's like a flag-waving over our lives, shouting "I trust You, Lord!" As believers, we need rest too. When we engage in God-directed rest, it sings of our trust too.
The Mission of Manna
Manna was also something that served as a dividing line for the Israelites. It was new and different, and it wasn't continued into the Promised Land. It forced that generation of God-followers to know Him personally, rather than culturally or as a "family thing."
You shall remember all the way which the Lord your God has led you in the wilderness these forty years, that He might humble you, testing you, to know what was in your heart, whether you would keep His commandments or not. He humbled you and let you be hungry, and fed you with manna which you did not know, nor did your fathers know, that He might make you understand that man does not live by bread alone, but man lives by everything that proceeds out of the mouth of the Lord (Deuteronomy 8:2-3).
The earlier generations of Israelites did not get to interact with the Lord in this way. So, God's provision was pulling them into intimacy and a sense of owning their faith journey as personal.
The manna provision also served to humble them. This provision was simply gathered up. The Israelites couldn't boast any real effort or involvement.
When the Lord provides for us, let us write it into our testimonies as personal and precious. Let us make note of it and receive the work of His provision with complete humility, as well.
Photo Credit: ©iStock/Getty Images Plus/Oxana Medvedeva
---
April Motl is a pastor's wife, homeschool mom, and women's ministry director. When she's not waist-deep in the joys and jobs of motherhood, being a wife, and serving at church, she writes and teaches for women. You can find more encouraging resources from April here and here.