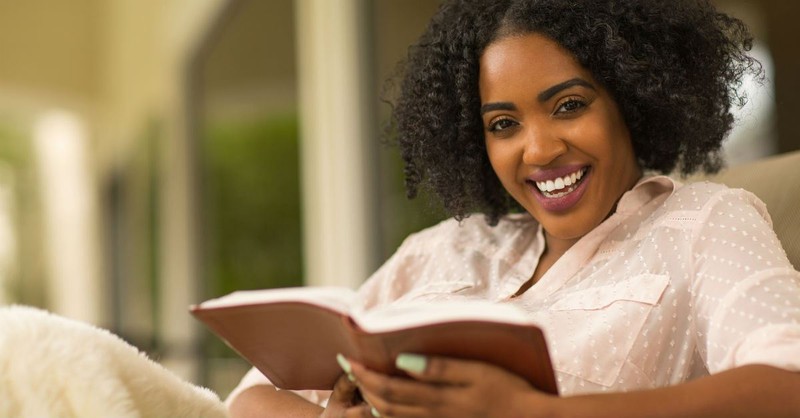 Why should I be interested in the Bible? That's a great question! Sure, the Bible can be confusing at first glance and seem a tad overwhelming. It can make people feel uncomfortable, especially when it brings about change (goal change, habit change, heart change) they may not be ready to face or even want to face—at least not today.
Then why read it?
Before we dive into "why," what does the Bible have to say about itself?
Hebrews 4:12 says, "For the word of God is living and active, sharper than any two-edged sword . . . discerning the thoughts and intentions of the heart" (ESV).
Psalm 119:105 says, "Your word is a lamp to my feet and a light to my path" (ESV).
2 Timothy 3:16 says, "All Scripture is breathed out by God and profitable for teaching, for reproof, for correction, and for training in righteousness" (ESV).
If that isn't enough, here are 10 additional reasons why you should take an interest in the Bible:                
1. Because the Bible is the best-selling and most referenced book of all time.
Despite the pushback it's gotten over the centuries, the Bible—its preservation throughout hundreds of years, its astounding unity from start to finish, its ability to change lives from the inside out—has remained number-one worldwide. What an amazing testimony to the lasting truth of Scripture!
Isaiah 40:8 says, "The grass withers and the flowers fall, but the word of our God endures forever" (NIV).
2. Because the Bible reveals how much God loves you.
Reading the Bible won't make God love you anymore than he already does. But reading the Bible will show you "how wide and long and high and deep" is the love he has for you (Ephesians 3:18). We see it in the stories of redemption woven throughout the Bible – stories like Joseph's, Esther's, the Samaritan woman's, and Paul's. And we ultimately see it in the sacrificial love God showed us on the cross. 
3. Because the Bible teaches you how to love well.
"Love" is quite the buzzword these days. But when left up to us, our love for others can get a little conditional and biased—sometimes subconsciously, sometimes not. We like the emotion part of love, but the "putting others first" part, not so much. Refreshingly, the Bible teaches about sacrificial love, comforting love, romantic love, servant-heart love, love-your-enemy love, and those-who-are-different love. 
1 John 4:19 says, "We love because he first loved us" (NIV).
4. Because the Bible gives the reason for why you're here.
There's a lot of speculation as to how we got here—and a handful of ideas as to why. Not only does the Bible address those questions, declaring we have an all-powerful Creator, it also reveals the reason for our existence: We were intentionally put on earth as objects of God's love and pleasure—plus countless other reasons, all of which bring glory to God. 
Colossians 1:16 says, "For by [Jesus] all things were created, in heaven and on earth, visible and invisible, whether thrones or dominions or rulers or authorities—all things were created through him and for him" (ESV).
5. Because the Bible tells you who to thank when you're feeling grateful.
Showing gratitude has been scientifically proven to greatly enhance our everyday lives, and keeping a "gratitude journal" is recommended by therapists and moms everywhere. 
The troubling thing is, most people are left wondering where—or to whom—they should direct their thankful thoughts. Here, the Bible is spot on; it clearly points to our generous God, for "every good and perfect gift is from above, coming down from the Father of the heavenly lights" (James 1:17 NIV).  
6. Because the Bible explains how to get to heaven.
Which, by the way, has nothing to do with how good, how selfless, how generous, or how insanely nice we are. And it isn't something we have to work for, pay for, or say a certain prayer 10 times for.
Heaven is a free gift to everyone who puts their trust in Jesus, "for there is no other name under heaven given to mankind by which we must be saved" (Acts 4:12 NIV).
7. Because the Bible's guidance and advice are unparalleled.
Reading has been proven to reduce stress, increase empathy, boost creativity, and improve language skills. When it comes to reading the Bible, there are plenty of takeaways for everyone. Even modern psychology pulls wisdom from Scripture, oftentimes without even realizing it. 
However, because the Bible's message "is the power of God that brings salvation to everyone who believes" (Romans 1:16 NIV), it supernaturally impacts lives—something your average do-good-feel-good read is utterly powerless at accomplishing.
Psalm 32:8 says, "I will instruct you and teach you in the way you should go; I will counsel you with my loving eye on you" (NIV).
8. Because the Bible is the only thing that will ground you when life falls apart.
Even if your worst fears come to pass—you lose a loved one, lose a house, or lose your mind—God's Word will remind you of his love, his compassion, and his invitation to live with Him forever. And no matter how many times you've heard His promises, they will come to mean something far better than you ever thought possible the moment your world crashes in.
Psalm 73:25 says, "Whom have I in heaven but you? I desire you more than anything on earth" (NLT). And Habukkuk 3:17-18 says, "Even though the fig trees have no blossoms, and there are no grapes on the vines . . . even though the flocks die in the fields, and the cattle barns are empty, yet I will rejoice in the LORD! I will be joyful in the God of my salvation!" (NLT).
9. Because the Bible's claims demand a response.
There is no getting around what the Bible claims about Jesus. Even a lack of response is a response. In the 1800s, Scottish preacher, John Duncan, posed the argument: Christ has either (1) deceived mankind by conscious fraud, or (2) He was Himself deluded and self-deceived, or (3) He was Divine. There is no getting out of this trilemma. It is inexorable." So then, how should we respond to this?
Matthew 16:15-16, "But what about you?" [Jesus] asked. "Who do you say I am?"
Simon Peter answered, "You are the Messiah, the Son of the living God" (NIV).
10. Because the Bible introduces you to real freedom.
Many people think freedom is associated with being in control of their own lives, but it's just an illusion. They aren't in control at all; their desires and feelings are in control. A person who calls their own shots is not free at all.
Freedom isn't found in doing what you want to do. John Piper explains freedom as "doing what you love to do, if what you love to do is what you ought to do. And transformation is the change of our hearts, so that what we love to do is what we ought to do." Nothing transforms and frees a life quite like the Bible.
John 2:31-31 says, "If you abide in my word, you are truly my disciples, and you will know the truth, and the truth will set you free" (ESV).
Molly Parker is a freelance copywriter and content editor whose passion is helping clients craft engaging, personality-packed content. In addition to finding beauty in the way God's redemptive plan is woven throughout Scripture, she adores imaginative story lines, catchy phrasing, and sentence structure (just watch how her eyes twinkle when she mulls over comma placements). Molly calls California home with her grown-up kids, hunky husband, and sassy cat. Visit her at www.mollyjeanparker.com.
Photo Credit: GettyImages/digitalskillet