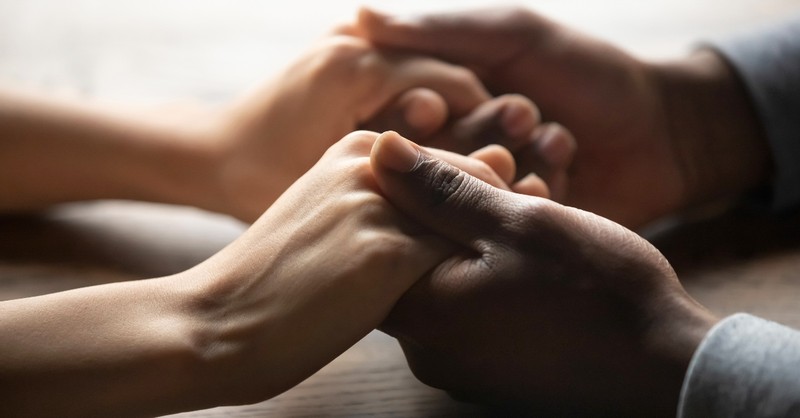 I haven't counted for myself, but rumor has it that the phrase "Fear not" is counted 365 times in the Bible. We are reminded and taught on a daily basis not to fear. But quite frankly, it is easier said than done.
Wisps of fear rise up when my kids walk out the front door for school. Fear pricks my attention at doctor appointments, and I'm told my youngest has scoliosis.
Fear nudges me awake at night as I think about my oldest living two whole states away in a tiny studio apartment on her own. It whispers of sex trafficking, car accidents, and more.
Fear rises when I am out for a run as I wonder about getting hit by a car. I am also afraid of clowns, snakes, criticism, and drowning. I am afraid of messing up, saying the wrong thing and I really don't like it when my son "jump scares" me.
These are just a few things to fear. Fear is the enemy of God's people. This four-letter word is the crux of the Christian walk because like a fashion show, it struts down the runway of our lives in the form of gloating:
You're not enough. God can't and won't save you. You're stupid. She doesn't need you to write this book. You're going to mess this up. God will take this child from you. You don't deserve this promotion. You're going to die of COVID.
Even this morning, as I woke early to leave for Jazzercise, fear crept into my mind to whisper that I would be mugged and murdered. I rolled my eyes and thought how unlikely that would be since I live in a tiny farm town in the middle of Nebraska.
But there have been times where I was afraid, very afraid. Shaking and full of terror I could barely catch my breath, when I whispered, "Jesus, I am so afraid. I am so scared."
As my body shook like a tree in a hurricane, God whispered back, "Daughter, fear not, I am with you." Then the rest of His Words filled my soul, penetrating every part of my fear.
"Fear not, for I am with you; Do not be dismayed, for I am your God. I will strengthen you. Yes, I will help you, I will uphold you with My righteous right hand" (Isaiah 41:10).
What the Bible Says about Fear
Isaiah 41:10 gives us several reasons not to fear. Here are five reasons:
1. For I am with you — Do not fear, for I am with you.
2. I am your God — Do not look anxiously about you, for I am your God.
3. I will strengthen you.
4. I will help you.
5. I will uphold you with my righteous right hand.
God calls and commands us not to fear. When we let fear take over, we take our eyes off Him and His promises. As we can see above, God gives us five reasons in one passage of Scripture alone.
The entire Bible is a love letter about how His love for us will protect us and bring us home. He didn't say we wouldn't have trouble.
He didn't say we would face a crisis, a pandemic, or other unexpected news. He said the opposite and then He goes on to tell us not to fear.
Isaiah 41:10 is our foundational verse to stand on faith over fear. It says:
1. God is with me.
2. God is my God.
3. God will strengthen me.
4. God is my helper.
5. God will uphold me.
In other words:
1. Fear not, God is with you.
2. Fear not, God is your God.
3. Fear not, God will strengthen you.
4. Fear not, God will help you.
5. Fear not, God will uphold you.
If the key to fearlessness is believing that God is your God and God is with you and He will strengthen, help, and uphold you, then you have His promise He will help you fear less and trust in Him.
In addition to Isaiah 41:10, there are hundreds of other passages on His commands and promises.
10 Bible Verses about Fear
"Have I not commanded you? Be strong and courageous. Do not be terrified; do not be discouraged, for the Lord your God will be with you wherever you go" (Joshua 1:9).
"Be strong and courageous. Do not be afraid or terrified because of them, for the Lord your God goes with you; he will never leave you nor forsake you" (Deuteronomy 31:6).
Do not be anxious about anything, but in every situation, by prayer and petition, with thanksgiving, present your requests to God. And the peace of God, which transcends all understanding, will guard your hearts and your minds in Christ Jesus (Philippians 4:6-7).
"For I am the Lord, your God, who takes hold of your right hand and says to you, Do not fear; I will help you. Do not be afraid, for I myself will help you," declares the Lord, your Redeemer, the Holy One of Israel (Isaiah 41:13-14).
When anxiety was great within me, your consolation brought joy to my soul (Psalm 94:19).
God is our refuge and strength, an ever-present help in trouble (Psalm 46:1).
For God has not given us a spirit of fear, but of power and of love and of a sound mind (2 Timothy 1:7).
But now, this is what the Lord says… "Fear not, for I have redeemed you; I have summoned you by name; you are mine" (Isaiah 43:1).
The Lord is with me; I will not be afraid. What can man do to me? The Lord is with me; he is my helper (Psalm 118:6-7).
He who dwells in the shelter of the Most High will rest in the shadow of the Almighty. I will say of the Lord, "He is my refuge and my fortress, my God, in whom I trust." …He will cover you with his feathers, and under his wings you will find refuge; his faithfulness will be your shield and rampart. You will not fear the terror of night, nor the arrow that flies by day, nor the pestilence that stalks in the darkness, nor the plague that destroys at midday. A thousand may fall at your side, ten thousand at your right hand, but it will not come near you…For he will command his angels concerning you, to guard you in all your ways… "Because he loves me," says the Lord, "I will rescue him; I will protect him, for he acknowledges my name. He will call upon me, and I will answer him; I will be with him in trouble, I will deliver him and honor him…" (Psalm 91:1-16).
The Difference Between Faith and Fear
It's one thing to read the words, "fear not," it's quite another to put faith into practice over our fears. It's not always an easy choice, but that's what fear is — a choice. Instead, we can choose to:
Not allow fear and anxiety to steer our lives.
Choose to guard your heart.
Choose to focus your mind and heart on the Word of God.
The next time fear rises, turn your attention to God's promises. Turn your spirit to His. Ignite your faith by prayer and reading His Word. Replace every fearful thought with Scripture because God is bigger than our fears.
He gives us power and strength when we are at the end of our rope and we feel like we are falling into an ocean of, "what ifs." Instead of what if, turn those thoughts to "Even if…" Because God has you in the palm of His mighty hands.
For further reading:
Why Has God Not Given Us the Spirit of Fear?
Will God Heal Me if I Get the Coronavirus?
10 Verses about Fear and Anxiety to Remind Us God Is in Control
'Fear Not for I am With You' — True Bible Meaning of Isaiah 41:10
What Did Jesus Mean That We Will Have Trouble in This World?
10 Prayers to Help You Exchange Anxiety and Fear for Peace
Photo Credit: ©iStock/Getty Images Plus/fizkes
---

Heather Riggleman is a believer, wife, mom, author, social media consultant, and full-time writer. She lives in Minden, Nebraska with her kids, high school sweetheart, and three cats who are her entourage around the homestead. She is a former award-winning journalist with over 2,000 articles published. She is full of grace and grit, raw honesty, and truly believes tacos can solve just about any situation. You can find her on GodUpdates, iBelieve, Crosswalk, Hello Darling, Focus On The Family, and in Brio Magazine. Connect with her at www.HeatherRiggleman.com or on Facebook.