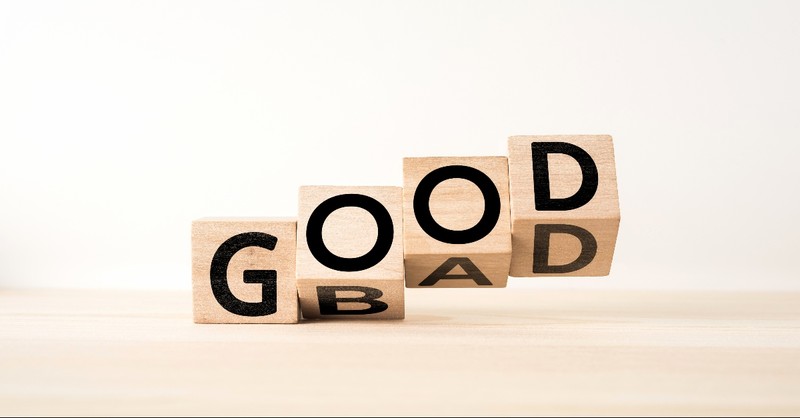 Necessary evil implies that certain things are warranted by the situation a person is facing. As we consider this phrase, we need to also consider the phrase unnecessary evil, which is actually unbiblical because it teaches that it is never morally acceptable or necessary to choose or do something if it is considered "evil."
This means that necessary evil can and does have some validity depending on how it is understood, with the difference being on how one defines the phrase.
In this article, we'll look at what Scripture has to say about necessary evil and why this matters to the people of God.
How Scripture Speaks of Evil
Evil is used in Scripture in two ways. First, Scripture speaks of evil as moral wickedness in terms of sin (Judges 3:12; Proverbs 8:13; Matthew 12:35; 3 John 1:11). English speakers would understand evil in this way, but the Hebrew language is highly contextual.
The Old Testament references moral evil as closely connected to catastrophe, disaster, tragedy, or ugliness (Genesis 50:20; Amos 3:6). Isaiah 31:2 even uses the phrase evil in both ways.
While modern English translations use evil for morality, older translations such as Isaiah 45:7 in the KJV use evil as disaster, therefore resulting in confusion in understanding the term.

Moral evil is contrary to the nature of God and never necessary. The Lord offers a solution that no matter the situation, it does not and will not require evil (1 Corinthians 10:13).
Moral evil is neither justified by the moral law of God nor excused by any situation. Some people think that any kind of sin may be permissible, but, in truth, it is never necessary in the eyes of the Lord.

It also needs to be explained that circumstances define actions themselves. This should not be viewed as situational ethics, which has, at its foundation, no objective moral laws beyond "the ends justifies the means."
Instead, it's an acknowledgment that morality is not defined by words but by our response to the will of God in each moment of our lives (Matthew 5:21-22,27-28).
The opposite of this would be legalism, which means that abstractions and grammar are more important than the person's response to the situation (Matthew 15:3-9).

Exodus 20:13 is a biblical example of the difference between what we have discussed in this article. The word for murder in Exodus 20:13 is the Hebrew word ratsach and refers to predatory, unjustified, or premeditated slaughter.
Yet, it also needs to be said, not every instance of one man killing another is murder. For example, capital punishment (Genesis 9:6), self-defense (Exodus 22:2), and legitimate war (Psalm 144:1) are not examples of murder.
Sometimes those actions can be referred to as a necessary evil, or even a necessary tragedy or ugliness. Those examples are not morally evil, and the difference is found in the types of situations they exemplify.
The moral principle behind those three examples is absolute and objective, so the circumstance defines if and how principles are applied in a given situation.
Not every situation offers clear cut guidelines for making such decisions. For example, some events in Scripture need to be distinguished between justified ugliness and unjustified evil.
Hebrew midwives lied to stop infants from being slaughtered (Exodus 1:19-20). The Lord is said to have "dealt well" with them in this instance.
Rahab lied to protect Israel spies in Jericho (Joshua 2:1-7), which resulted in her rescue from death and her commendation in the New Testament (James 2:25-26). Ehud assassinated the evil King Eglon leading to extended peace for Israel (Judges 3:15-30).
Other examples from Scripture show how guidelines cannot be set aside so slightly. Saul assumed it would be better to make his sacrifice rather than following the rules to wait for Samuel (1 Samuel 13:8-14).
In Saul's situation, his sacrifice was condemned by the Lord. Uzzah touched the ark of the covenant to stop it from falling. His action violated a strict rule (2 Samuel 6:1-7), which resulted in him being killed by God (1 Chronicles 13:9-12).

Dietrich Bonhoeffer is a modern example of these principles. Defending his participation in a plot to assassinate Hilter, Bonhoeffer said, "What is worse than doing evil is being evil." These are not easy issues, and there are Christians on both sides of them.
What we can say is if we take a necessary evil, literally, then it is unbiblical. Whether circumstances might be morally justified actions or not, the Lord would otherwise prohibit according to His judgment, and not ours, which is more difficult to untangle.
We should not oversimplify such situations, nor confuse them for being discerning (1 Corinthians 13:11). Hebrews 5:14 makes it clear that genuine moral discernment requires training. Even so, our preferences ought to be humble and trusting obedience rather than to make excuses or be indifferent about them.
Comforts Given When Facing Evil and Suffering
Three critical comforts can help Christians when confronted with evil and suffering:
1. Christians can know that they never suffer alone. God is acquainted with suffering, for He has suffered in Christ.
Jesus came into the world as a man, suffering with human beings, and for them. God Himself entered into the raw, ugly mix of evil.
Of all the world's religions, only Christianity reveals a God who suffers with and for humanity! His suffering in His earthly life and relationships — and on the cross — can transform His people's experience of suffering.
Even now, Jesus serves as the great High Priest interceding for believers during their trials and difficulties. Jesus is not aloof or indifferent to human anguish, for He suffered as the God-Man.
The author of Hebrews describes Christ's role as a sympathetic High Priest in Hebrews 4:14-16, which says,
Therefore, since we have a great high priest who has gone through the heavens, Jesus the Son of God, let us hold firmly to the faith we profess. For we do not have a high priest who is unable to sympathize with our weakness, but we have one who has been tempted in every way, just as we are — yet was without sin. Let us then approach the throne of grace with confidence, so that we may receive mercy and find grace to help us in our time of need.
2. God calls His children to live a life of faith (confidence and trust) in the goodness and sovereignty of God despite the presence of evil and suffering. Scripture points to the compelling examples of Abraham, Moses, Job, and Paul.
In the words of a familiar song, "Christians don't know what the future holds, but they do know who holds the future."
Faith is trusting in the character of God when circumstances are painful and confusing. Christians can trust God amid suffering because they are aware of His character and promises.
The Apostle Paul assures the Church, through asking and answering a probing question,
Who shall separate us from the love of Christ? Shall trouble or hardship or persecution or famine or nakedness or danger or sword? No in all these things, we are more than conquerors through him who loved us (Romans 8:35,37).
3. Evil and suffering go beyond a logical or philosophical problem — they are deeply personal and human problems. When people face suffering, they need comfort and reassurance.
Christians can and should confront evil and suffering in a powerfully practical way by comforting those afflicted by evil and by easing the suffering of the people around them.
Why Does This Matter?
The historic Christian answer to the problem of evil and suffering is found in the example, as well as the identity of Jesus Christ. God came in the flesh to heal His children's suffering to comfort as well as to teach, and ultimately to destroy the power of evil. The suffering of God in Christ's finished work is the solution to the problem of evil for human beings.
Photo Credit: ©iStock/Getty Images Plus/voyata
---
Dave Jenkins is the Executive Director of Servants of Grace Ministries, the Executive Editor of Theology for Life Magazine, and the Host of the Equipping You in Grace Podcast and Warriors of Grace Podcast. He received his MAR and M.Div. through Liberty Baptist Theological Seminary. You can follow him on Twitter at @davejjenkins, find him on Facebook at Dave Jenkins SOG, Instagram, read more of his writing at Servants of Grace, or sign to receive his newsletter. When Dave isn't busy with ministry, he loves spending time with his wife, Sarah, reading the latest from Christian publishers, the Reformers, and the Puritans, playing golf, watching movies, sports, and spending time with his family.