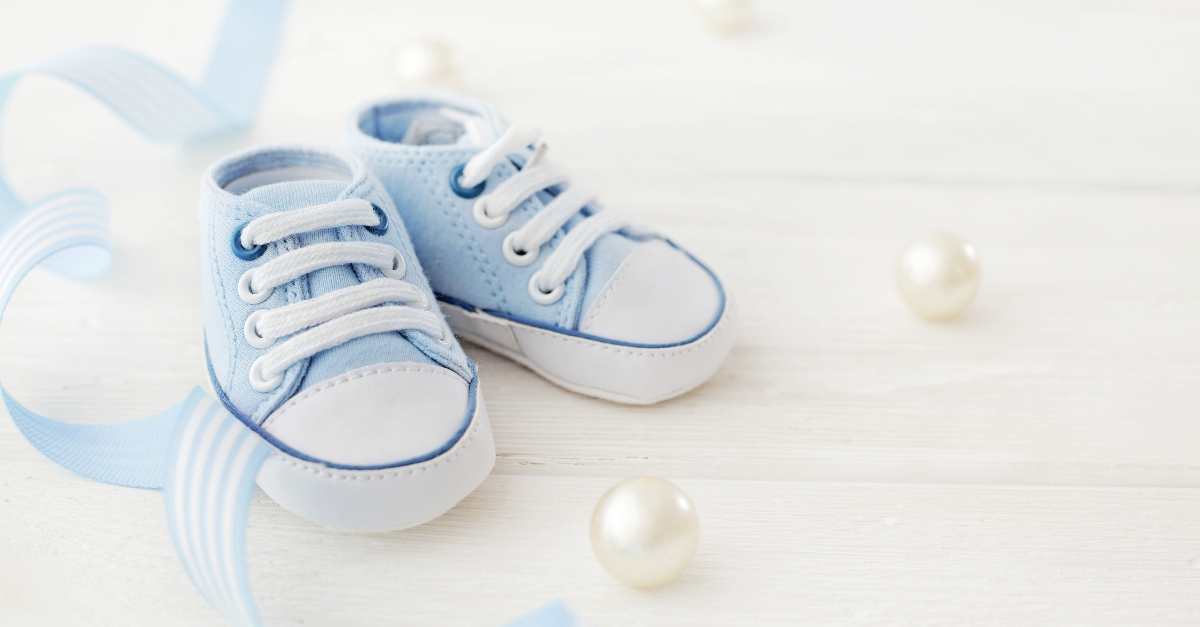 It's happened, you're pregnant! You've scoured the internet a few times when you were single or newly coupled, just to get a feel of what you like in anticipation of when, one day, you have a beautiful baby.
But this time, you're searching for real! You've already had a fantastic gender-reveal party that you filmed, posted to your various social media accounts, and it went viral — revealing — it's a boy!
Now you're ready to do a serious search for baby boy names. For Christians, the Bible is the source of God's Word, Salvation, and daily comforts. It's also become a great source for baby names.
The Bible reveals how much He loved His people and how they did great things to bring glory to the Lord. So, it's perfectly natural to want to use the names of the heroes of the Bible.
Along with the great names and stories, comes great meanings of these names in the original Hebrew and Greek translations.
Below are the Top-10 biblical boy names this year:
1. Nathan- Hebrew Meaning "God Has Given, Reward"
This is a great name as every child is a gift from God and you're feeling like you've been given the greatest gift in the world.
In the Bible, Nathan was a prophet who became a trusted adviser to King David. He's the one who was called to hold David accountable for his actions with Bathsheba and her husband Uzziah (2 Samuel 12).
If you decide to use the name Nathan for your baby, you'll be raising a trustworthy and loyal son.
2. Isaac- Hebrew Meaning "To Laugh"
This is a special name as God performed a miracle for Abraham and Sarah in Genesis. It is fitting as every life is a miracle. God promised Abraham that He would make his descendants as numerous as the stars in the sky and bless all the nations of the earth (Genesis 26:1-6).
God told Abraham, age 100, that he and his wife, Sarah, age 90, would have a son. Isaac's name was derived from Sarah's reaction to this promise (Genesis 18:12).
Maybe you and your husband have had a hard time getting pregnant, it's a promise you've felt from God, but it's been a difficult and, maybe, a painful process, and you've lost all hope.
Isaac is a name that evokes joy, surprise, and promise. It's a perfect name no matter how you have this miracle.
3. Matthew- Greek Meaning "Gift of God"
This is a popular name in both Christian and Non-Christian circles. Every child is a gift, and Matthew is a beautiful name as a reminder of that special gift from God.
Matthew was an apostle of Christ. Jesus called to Matthew, "Follow me" and Matthew got up and followed Him (Matthew 9:9). His gospel is also the first in the New Testament. As a first-hand eyewitness, he wrote the birth, ministry, death, resurrection, and Great Commission of Christ.
If you name your son, Matthew, be prepared for him to become a loyal and obedient child who might become the greatest writer of all-time!
4. Ezra- Hebrew Meaning "Helper, One Who Supports"
Ezra is one of those seemingly old-school names that is making a big comeback. It's a strong and unique name fit for any baby boy.
Ezra was a priest and "a scribe skilled in the law." He returned from exile in Babylon and reconstituted the Jewish community based on the Torah. "Since his efforts did much to give Jewish religion the form that was to characterize it for centuries after, Ezra has with some justice been called the father of Judaism i.e., the specific form the Jewish religion took after the Babylonian Exile."
So, don't be surprised when you name your son Ezra that he'll have a strong sense of justice and might just be a top lawyer or judge.
5. Zechariah (Zachariah)- Hebrew Meaning "The Lord Has Remembered"
Zach has always been a great name. A cool-guy name. However, not a lot of people think of it as a biblical name.
There are two prominent Zechariah's in the Bible. There is the Old Testament prophet who wrote the Book of Zechariah. He prophesied to the Israelites after they came back from their 70 years in exile in Babylon. He was a priest in addition to a prophet.
The second Zechariah is the father of John the Baptist. This is a great story for couples who are struggling with conception. Zechariah and Elizabeth honored the Lord but had no children.
Zechariah was a priest, and while burning incense before the Lord, was visited by the angel Gabriel, who told him that he and Elizabeth would have a son, who would prepare the way for the Messiah, and to call him John.
In Zechariah's unbelief, the angel made him mute until the baby was born. When he was able to speak again, he praised the Lord! (Luke 1:5-80).
This name is a great reminder of God's power and that His plans are considerably more than we can ask or imagine (Ephesians 3:20-21).
6. Samuel- Hebrew Meaning "God Heard"
Samuel, Sam, or Sammy is a great household name that fits every and any personality.
Samuel's story in 1 Samuel is a beautiful story of a mother, Hannah, who never gave up on her desire to have a baby.
She had a loving husband, but, as the years passed, she could not get pregnant. It was in Hannah's deepest cry to the Lord and her selflessness to dedicate her future child to the service of the Lord, that the Lord heard her cry and opened her womb.
Hannah kept her promise to the Lord and gave Samuel to the priest, Eli. Samuel grew in faithfulness and became the leader of the Israelite people. He listened to the Lord when the people cried for a king and God sent Samuel to find Saul then David.
Samuel was the transition from how the Lord governed his people to how the people wanted to be governed, which set the precedence of their tumultuous history.
Samuel is a wonderful reminder of the power of prayer and dedication to the Lord.
7. Philip- Greek Meaning "Friend of Horses"
This name is for all the animal lovers out there, more specifically for the equestrians. It's a beautiful name and you can even call him Phil if you prefer.
There aren't many mentions of Philip in the Bible, but what we do see is that Jesus called Philip, as one of his disciples, personally and was the one who brought Nathanael to Jesus. Philip is also seen as very practical, handling the supplies and food in John's account of the Feeding of the 5,000.
Another Philip is recorded in Acts 8 — Philip the Evangelist. This is the Philip who was on the road and ran into the Ethiopian eunuch in charge of Queen Candice's treasure. As he was reading the Book of Isaiah, Philip came and explained who the prophet was speaking of — the one who came to save the world — and Philip baptized him right there along the road.
Philip is a name that was sired to two men in the Bible who were dedicated to Christ and shared His love wherever they went.
8. Joshua- Hebrew Meaning "Jehovah Is Savior, Jehovah Is My Salvation"
Imagine having a little boy with a strong biblical name like Joshua, but in your home, he's Josh or if you're wanting to be really cute, "Joshy."
Joshua is the man God called to lead His people after the death of Moses. God entrusted His chosen people to Joshua because of his courage (Joshua 1:8). God's plan for Joshua and the people of Israel was to give them the Promised Land. God promises Joshua His guidance and promise that "no man will be able to stand before you" (Joshua 1:5).
Joshua was a great leader and faithful to God. He listened and followed the Lord.
9. Abram- Hebrew Meaning "Their Protection"
Abram is a great name that evokes the father of nations, Abraham, without all the syllables.
Abram was Abraham's name before God called him to be the father of His people. God calls Abram out from his home to settle in the land of Canaan. Abraham followed the Lord no matter what was asked of him, even when God asked him to sacrifice his promised son, Isaac.
Because of his faithfulness, God stops Abraham from sacrificing his son and blesses him by promising Abraham that his decedents will number the stars in the sky (Genesis 26:4).
Abram means "exalted father" or "their shield, their protection"
Abram is a strong name that reminds us of God's faithfulness and promise.
10. Michael- Hebrew Meaning "Gift from God"
Michael is a strong name for a son. If you choose this name, you can also call the little tike, Mike.
Michael is the archangel of the Lord or "chief angel." Michael is mentioned in Daniel as the protector of Israel (Daniel 12:1). Michael, as the leader of the angels, will have a huge part to play in the end times. He will lead a host of angels to victory in the war against Satan and his demons (Revelation 12).
Angels, as seen in Scripture, have many roles, but they all come at the service and command of the Lord.
Michael is a powerful servant of the Lord as is seen and will be seen.
What's in a Name?
No matter what name you choose, whether it's based on a biblical name or not, you're going to have a beautiful baby boy and he will be special because he is a gift from God, and he is yours!
©iStock/Getty Images Plus/KMNPhoto
---
Molly Law is the Editor of Christianity.com. She has a Master of Arts in Publishing Studies from the University of Stirling UK, where she studied and lived for a year in Scotland. She has a Bachelor of Arts in English Professional Writing from Gardner-Webb University. Her editorial career includes Senior Editor of a bimonthly magazine for the American Correctional Association, Editorial Assistant at Luath Press in Edinburgh, and Freelance Journalist for the News Virginian. She enjoys reading 18th-century British Literature, creative writing, and traveling.