Fresh Plans
By: Rick Boxx
January 2, 2013
It's hard to know whether or not the plans I develop for the New Year are from me or from God. I'm a very optimistic person so I have a tendency for my plans to seem unrealistic. Yet, if I'm carrying out God's purpose couldn't He provide all that's required?
Although I don't have all the answers, what has helped, has been to make sure I commit my plans to the Lord for his guidance. If I develop plans without involving God, they're usually not very fruitful.
Proverbs 16:3 teaches, "Commit to the Lord whatever you do, and your plans will succeed."
If you desire your plans to succeed, prayerfully submit your entire planning process to God. Commit it all to Him, then listen and observe closely what He requires.
If you need help using your business resources more effectively consider IRC's consulting services.
Joel Manby's Love Works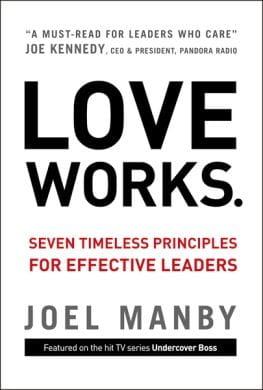 Manby challenges leaders to allow integrity and faith to guide leadership decisions, outlining seven time-proven principles that break down the natural walls within corporate cultures, and cultivating an atmosphere that builds long-term success. Purchase here.
"How well are you modeling Faith, Integrity, Relationships, and Excellence in your work? Find out by taking Integrity Resource Center's free FIRE Assessment!"
Contact Rick Boxx at www.integritymoments.org, and to learn more about Integrity Resource Center go to integrityresource.org.