from Day by Day with the Persecuted Church

There is no fear in love. (1 John 4:18)
Grace Dube
A Marxist leader once stated that Christian love is an obstacle in the development of the communist revolution. "We need hatred, not love," he said.
These words were also used when a mob of people in Soweto "visited" my husband Benjamin. The Lord had called Benjamin to preach a message of forgiveness, love and hope in our troubled township. Many people came to listen, but others were angry. "You are black yourself" they cried, "why then do you talk about loving the white people?" Benjamin's answer was always the same, "We should not hate people, because Jesus loves us all - white or black." "If you do not stop preaching love we will kill you," was the reaction.
One night Benjamin woke up and called our family together in the middle of the night. He told us about the threats and said, "I believe they will kill me soon." We could not believe our ears. I knew he did not say these things lightly, and that I could never persuade him to stop preaching about love and forgiveness.
That night he prayed with us all, a prayer meeting that I will never forget. "Remain faithful to Jesus" he said, "love those who will kill me - because Jesus loves them." It all sounded so strange and yet so true.
A few days later his car was stopped by fellow black people. He was dragged out of the car and beaten to death. His murderers took his Bible and drenched it in his own blood. "We want hatred," they shouted. But Benjamin was a messenger of love.
What about me? What about you?
Grace Dube from South Africa. Her husband was stabbed to death. She continues to preach his message of forgiveness.
Copyright [C] 1995 Open Doors International. Used by permission.
Click here to sign up for a free monthly newsletter from Open Doors about persecuted Christians.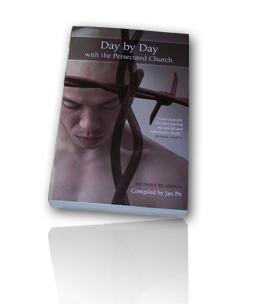 Day by Day with the Persecuted Church
compiled by Jan Pit with a forward by Brother Andrew (paperback, revised 2000)
Compelling wisdom from the pen of actual believers living amidst persecution, you'll be connected to the suffering, courage, and depth of life that exists in the harshest places in the world. Each of these 365 thought-provoking devotions will deepen your understanding of Christian persecution and provoke you to pray for our brothers and sisters with a new found depth.