Never Forsaken
My God, my God, why have you forsaken me? Why are you so far from saving me, so far from my cries of anguish?
 Psalm 22:1
Give credit to the Bible, it doesn't sugarcoat things. God recognizes our misery. He recognizes that we often suffer from injustices. He knows that we can feel lonely and forgotten, or worse, persecuted and abused. He sent the apostles out into the world, and they were martyred. Christians today are often mocked. In other parts of the world they are being targeted and killed for their faith. He knows our life can be a trail of tears—and yet...
God gave His only begotten Son that we might be saved. He partook of our humanity so that He would know, as intimately as possible, what it means to be human, to endure suffering, even to die horribly. And yet....
And yet, with God there is always hope. The Creator is also the Savior. We will have days when we cry in anguish. We will have days when we feel alone. We will have days of grief and suffering. But God is always with us. He always cares for us. In the end, He will make things right.
Sweet Freedom in Action
Pray that you might always cherish a sense of the immediate presence of God. We are never alone—never. Reach out to God in prayer and give thanks for His faithfulness.
---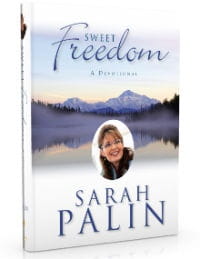 In Sweet Freedom, Sarah Palin invites you to draw strength and inspiration from 260 meditations based on guiding Biblical verses. You are not alone in your doubts and anxieties—we all bear the burdens of everyday stresses, and for most of us, our concerns spread beyond our selves to our families, communities, and country. But Palin shows that with abiding faith, and by opening ourselves to the truths that have saved mankind for generations, we can thrive—and experience true freedom.