How much does God love you?
October 1, 2012
"For God so loved the world, that he gave his only Son, that whoever believes in him should not perish but have eternal life."
Is it possible to know the breadth, the depth, the length, the height of the love of God? Well, we know it is revealed in today's verse, which is often thought of as one of the most priceless gems in all of the Scriptures, John 3:16.
The breadth of the love of God is found in the first part, "For God so loved the world…" God's love embraces the whole world.
The length of the love of God is that "…he gave his only begotten Son," showing how far God would go in order to love us.
The depth of the love of God is that "…whoever believes in him should not perish…" Jesus descended into the destination of the damned in order to deliver us and to save us from perishing!
And then the height of the love of God is that we should "…have eternal life." That's what God's love does.
Now, the reality is that while we can read the words of the most famous verse in the Bible on paper, God's love is so much greater that anything you or I could express or imagine. So take time today and meditate on how much God loves you. And thank Him for showing it by sending Jesus to die for you!
GOD'S LOVE IS GREATER THAN COULD EVER BE EXPRESSED IN WORDS. SO THANK HIM FOR SHOWING HIS LOVE THROUGH JESUS CHRIST!
---

For more from PowerPoint Ministries and Dr. Jack Graham, please visit www.jackgraham.org
and
Listen to Dr. Jack Graham's daily broadcast on OnePlace.com.
Watch Jack Graham and Powerpoint Ministries Video Online.

Get straight, biblical answers to questions our culture is asking!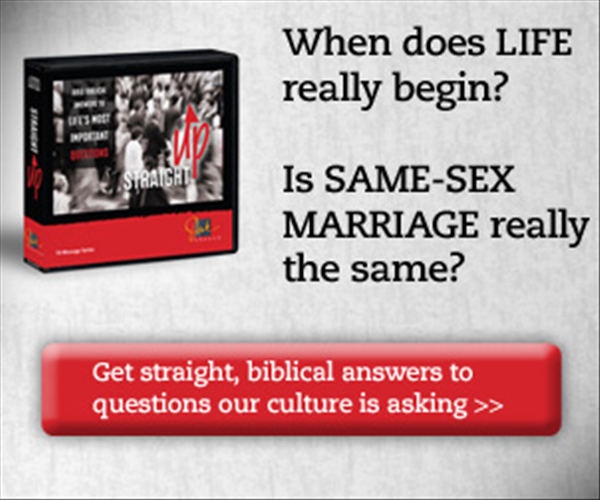 Dear Friend,
A lot of people doubt the Bible has anything good to say – much less relevant answers to questions about things like same-sex marriage and abortion. But the truth is, the Bible contains the very words of God about these subjects and so much more.
That's why I want to send you a copy of my popular series on CD called 'Straight Up.'
Packed with the truth of Scripture, 'Straight Up' will give you the tools you need to give a loving and compassionate response to our culture about issues such as:
Same-sex marriage
Abortion
Tolerance
God's will
And much more!
'Straight Up' is my gift to thank you for your donation to help PowerPoint continue to proclaim truth to our truth-hungry world. So please request it when you give today. Thank you!
Jack Graham
PowerPoint Ministries