February 24
God Uses Table Waiters
"…It is not desirable for us to neglect the Word of God in order to serve tables. But select from among you, brethren, seven men of good reputation, full of the spirit and of wisdom, whom we may put in charge of this task. …and they chose Stephen, a man full of faith and of the Holy Spirit…"
The beauty of a servant's heart is expressed through the life of humility; it is manifested in the lowliest of places. The attitude of servant hood never seeks to gain only to give and it never counts the cost associated with the giving. Jesus was the ultimate servant and His example is lived out before us through the life and death of Stephen who was the first martyr of the church, the first sacrificial offering unto the Lamb of Glory. The power of his life is seen when we realize that he was just a man chosen to wait on tables. Power manifested through weakness is still a mystery to the world today, just as it was in Stephen's day, the time of the early church. Serving tables would not be a prized achievement one would list on a resume if seeking a position on staff in a church, a missionary assignment on foreign soil or to be a sought after evangelist for a revival. But there is a life transforming principle discovered in the story of Stephen's life.
Today, positions are sought after, titles pursued, and authority is latched onto like a precious prize to be showcased. In John 5:41, Jesus said, "I do not receive glory from men".Success is often measured by position or title, which can all be lost without warning because they are temporal and they are usually man honoring. Positions or titles we held are not going to be measured in eternity. What will be measured is our attitudes, the spirit with which we served others, if we served at all. Find a humble servant who has discovered the joy of serving others and you will have discovered a great leader. Greatness in Heaven will be measured upon those tables we "waited on" beloved not at the tables we feasted upon. God, in His grace and mercy and forethought, handpicked Stephen that day to wait upon tables serving the widows because through this appointment He would teach His people the secret of success in ministry.
Remember with me that Stephen was a man full of faith and full of the Holy Spirit. At first glance we might think; what a waste to put him serving tables. But quite the contrary with God who knows; what a waste not to put him serving! God humbled him in order to exalt Him. Listen to Jesus words to the Pharisees, "You love the place of honor…and respectful greetings…and being called Rabbi by men. Whoever exalts himself shall be humbled; and whoever humbles himself shall be exalted" (Matthew 23:6,7&12). Humility precedes honor in the kingdom of Heaven. The power of faith and the anointing of God will leave a legacy through service never through position. Because God placed him there, he knew that this was the highest position he could hold . He recognized that He was a servant of the living God, not of man. He understood that he was a servant at the Lord's table and every act of service was unto his Lord and Savior.
It is this servant's heart that held him when the stones were cast in order to kill him because of his faith in Jesus. Thousands of years later we find hope and encouragement, strength and honor in the life of a table waiter. If you are holding a position that is not as honorable as you would like; it may be just the place God has ordained for you in order to display His glory through your service. There are no lowly places with God, beloved only stepping-stones to glory! Do you have a servant's heart? Are you willing to lay aside titles, positions and authorities in order to serve, even if it's waiting on tables? Shooting stars come and go but the life of a servant will shine throughout eternity.
Keep me a pauper at the King's table.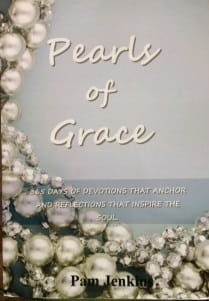 Pearls of Grace Devotional Book
Pearls of Grace is a book of devotions for the entire year, including a read through the Bible in a year calendar, broken down for every day. Beautifully written with encouraging words of hope and empowering words of joy and strength for every woman. Pam draws from the truth and richness of God's Word and gives real life examples in her down to earth style. A must have in your library, click here for more information.
For more from Pam Jenkins and Jabbok Ministries, please visit www.jabbokministries.com!
Listen to Pam Jenkins's daily broadcast on OnePlace.com.