Restore to me the joy of Your
salvation
. Psalm 51:12)
Now we can directly apply to ourselves the words of 1 John 2:1: "If anyone sins, we have an advocate with the Father, Jesus Christ." Literally, we have Him now. Whenever we need Him, He is there. The apostle doesn't say that we will have an advocate when we feel bad long enough. He said that we will always have an advocate. The word "advocate" means that Jesus is literally standing face to face with the Father on our behalf. David knew nothing of that relationship when he wrote Psalm 51, yet he understood the truth innately. 
---
Be challenged by Romans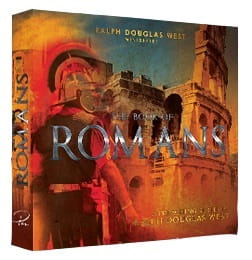 Romans doesn't let us sit still. In Romans, Paul talks about the obligation we are under to spread the truth of the Gospel and to engage with the culture around us. He talks about the journey we must make after we accept the God's gift of salvation. We are called to leave our comfortable and easy corners and spread the message of Christ's sacrifice to everyone around us, because we have been freely justified!