For I acknowledge my transgressions, and my sin is always before me.  Against You, You only, have I sinned, and done this evil in Your sight.  (Psalm 51:3-4a)
We don't get to the root of the human problem until we look at the vertical: "Against You and You alone." He didn't say, "I have sinned against Uriah or the kingdom," because he is so overwhelmed by the vertical. Here you have both the horizontal and vertical aspects. If we're only dealing with the horizontal, it's human to human. But this is not the case—there is something vertical about sin. Thus, sin must be dealt with. How do you deal with your sins? How do you confess them?
---
Be challenged by Romans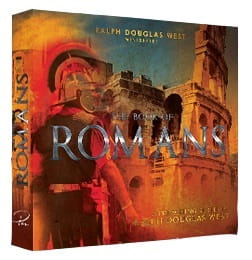 Romans doesn't let us sit still. In Romans, Paul talks about the obligation we are under to spread the truth of the Gospel and to engage with the culture around us. He talks about the journey we must make after we accept the God's gift of salvation. We are called to leave our comfortable and easy corners and spread the message of Christ's sacrifice to everyone around us, because we have been freely justified!