"Oh, that we had died by the hand of the LORD in the land of Egypt . . . For you have brought us out into this wilderness to kill this whole assembly with hunger." (Exodus 16:3)
Grumbling caused the Israelites to desire to reverse the exodus. They remembered the leeks, onions, and garlic they enjoyed in Egypt in the past, but they forgot the bricks without straw, the beatings, and the killings they experienced during their enslavement. Rather than punish them, however, He rains down bread from
heaven
. Despite their ungrateful attitude, God blessed them. How many times has God blessed you in spite of your attitude toward Him? People take grumbling too lightly. All you have to do is look at the company grumbling keeps.
---
Be challenged by Romans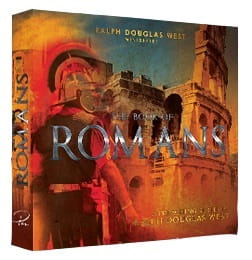 Romans doesn't let us sit still. In Romans, Paul talks about the obligation we are under to spread the truth of the Gospel and to engage with the culture around us. He talks about the journey we must make after we accept the God's gift of salvation. We are called to leave our comfortable and easy corners and spread the message of Christ's sacrifice to everyone around us, because we have been freely justified!