Serve the Lord with gladness; come before His presence with singing. (Psalm 100:2)
Why do so many of us express the opposite of gratitude? It's because the days of our lives are filled with complaints instead of praise and thanksgiving. We'll sulk about today because something isn't right or to our liking. Yet we can make this day better than it would have ever been. Instead of complaining about everything and everybody, why not choose to express gratitude for living and being? These will be days of gratitude for every good thing God has put in them for us.
---
Be challenged by Romans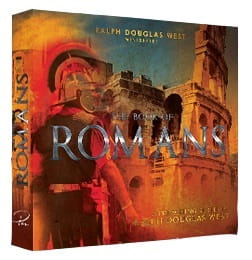 Romans doesn't let us sit still. In Romans, Paul talks about the obligation we are under to spread the truth of the Gospel and to engage with the culture around us. He talks about the journey we must make after we accept the God's gift of salvation. We are called to leave our comfortable and easy corners and spread the message of Christ's sacrifice to everyone around us, because we have been freely justified!