"With fervent desire I have desired to eat this Passover with you before I suffer, for I say to you, I will no longer eat of it until it is fulfilled in the kingdom of God."  (Luke 22:15)
The reason behind
Jesus
' vow of abstinence of food is one of the most intriguing observations in biblical revelation. Jesus may have intended to make it clear to His disciples that His vicarious death is irrevocable. He prepares Himself with a resolute will to drink the bitter cup that the Father offers Him. Indeed, Jesus often stood in our place so that we could someday stand in that same place. He stood in the place of suffering so we could endure suffering. He bore His cross so that we could carry our own cross.
---
Be challenged by Romans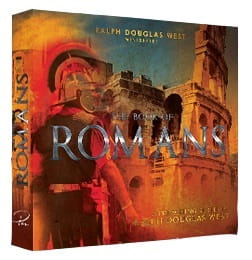 Romans doesn't let us sit still. In Romans, Paul talks about the obligation we are under to spread the truth of the Gospel and to engage with the culture around us. He talks about the journey we must make after we accept the God's gift of salvation. We are called to leave our comfortable and easy corners and spread the message of Christ's sacrifice to everyone around us, because we have been freely justified!