Now when Herod was about to bring him out, on that very night, Peter was sleeping between two soldiers, bound with two chains, and sentries before the door were guarding the prison(Acts 12:6, esv).
Peter didn't have weeks left to live. Or days, or hours.
He had minutes or seconds, and then it was going to be over.
Have you ever had your back to the wall like that? With no time left? Have you noticed how God sometimes takes us down to the wire?
Herod had taken Peter into custody, after seeing how his popularity had risen with the Jews when he killed the apostle James, arguably the church's number-three man. Imagine what they'd think when Herod did the same thing to Peter, unofficially the number-one? So he "seized him, he put him in prison, delivering him over to four squads of soldiers to guard him, intending after the Passover to bring him out to the people" (Acts 12:4)—not merely to parade him around in chains, but to make him guest of honor at a highly public execution.
Time, as of verse 6, had run out, "that very night." Again I ask, have you been there?
        This can't go past Friday.
        It has to be decided by the fifteenth.
        If it doesn't happen by tomorrow, I'm out of options.
But because God so often takes us to the limit, it must mean several things: (1) we can go a lot further than we think we can go; (2) the Lord is not accountable to our deadlines and ultimatums; and (3) our praying and crying and begging for last-minute help actually gets the hosts of heaven excited—because, look at us! We're recognizing our need. We're filled with faith. We're coming boldly to the only place we can find the answers. Far from not liking to see us like that, God loves seeing us like that, knowing it's taken a lot to get us to a place of such trust and focused, fervent prayer.
If you remember what God did for Peter at that midnight hour, you know "an angel of the Lord stood next to him, and a light shone in the cell. He struck Peter on the side and woke him, saying, 'Get up quickly.' And the chains fell off his hands" (Acts 12:7). The angel led him out, with Peter not knowing if this was really happening or if he was seeing a vision. But after they'd walked right past the guards, unnoticed, and through the city gate, which miraculously opened by itself, Peter came to his senses and said, "Now I am sure that the Lord has sent his angel and rescued me from the hand of Herod and from all that the Jewish people were expecting" (Acts 12:11). God had come through in the final moment in a way that only God could. Amazing faithfulness.
This is undoubtedly why God so willingly takes us down to the wire, too; He loves showing us what He can do. He loves producing in us the kind of heart that seeks Him for deliverance. And He loves letting us look back and learn that, because of Him, it's never over until He says it's over.
Don't fight those seasons when everything is hanging in the balance. Let God determine how much longer you can hold out. Then let Him get you further and give you more strength than you ever thought was possible.
Journal
Think back to a time when God came through for you with what felt like only moments to spare.
Boil that experience down into a quick testimony that you can be ready to share with someone needing encouragement.
Pray
Lord, I've been in those moments when my back was against the wall, and I couldn't see past a few more days or hours. And I've seen You work. I remember. So the next time I'm in that situation, help me trust You like Peter did, "sleeping between two soldiers" on the night of his planned execution. Thank You that I can rest, knowing You are in control, and You're working always for my good and Your glory. I believe that You will move like only You can, in exactly the right way and at exactly the right time. I trust You, and I pray this in the faithful name of Jesus, amen.
For more from Dr. James MacDonald please visit Walk in the Word on OnePlace.com.
---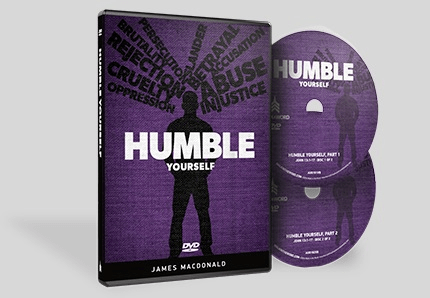 Jesus washing the disciples' feet is the most supreme act of humility in all of God's Word. And as always, His actions are a powerful example for each of us to follow today. Because when you make the choice to humble yourself, your life will forever change.