"I am going where everyone on earth must someday go. Take courage and be a man." - 1 Kings 2:2
How a man dies says a lot about how he lived. His last words speak volumes. John Wesley's final words were, "Best of all, God is with us." Ludwig van Beethoven, as he died, said, "The comedy is over." Quite a difference! Wesley died, not only conscious of where he was going, but also vividly aware that the One with whom he had lived so long would pass through the waters of death with him. Beethoven died with no such assured statement, only with words that hint that his life had been a cynical disappointment.
King David, lying on his death bed, said a lot in a few words to his son Solomon. "Take courage and be a man" he said, summarizing his own life and identifying his desires for his son (2:2). But what would it take to "be a man" in David's estimation?
First and foremost, being a man requires being courageous enough to recognize that success is dependent upon obedience to God's will and purpose. David commanded his heir to obey God and promised that if he did so, he would be successful (2:3). It takes a brave man to take a stand on God's ways, particularly when he is subjected to conflicting opinions and pulled by contrary forces. "Doing it my way" is a much more common and popular slogan than "Doing it HIS way," but the latter is the pathway to lasting success.
Second, being a man includes trusting in God's promises. David pointed his son to the promises of God as the source of assurance and strength (2:4). The man who knows how to "trust and obey" can be confident that God will be proactive in his affairs and deeply involved in his life.
Third, being a man includes administering justice (2:5-9). It may appear that David was urging Solomon to take vengeance on his enemies in order to resolve personal grudges, but it was actually a matter of administering God's justice rather than getting even. This same concern for justice led David to press on Solomon the responsibility to show kindness to those who deserved it (2:7).
Last words carry extraordinary weight because they are memorable; and because they often summarize a life lived, they pack an extra punch. So let us ensure before we die, and before our children do too much living, that they see and hear what they should hold as highest priorities.
For Further Study: 1 Kings 2:1-12 
SPECIAL OFFER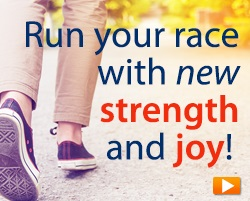 Run your race with new strength and joy!
The journey of faith is filled with rocky roads. When life isn't perfect it's easy to confuse the events of life with the absence of God. We want to send you Jill Briscoe's Faith Enough to Finish book to help you find the strength you need to endure life's tough times. Request your copy as thanks for your gift today!