Office Osmosis
According to a Northwestern University study, referenced in the Wall Street Journal, productive employees can raise the productivity of those around them. (The study discovered that those employees who finish tasks quickly also raise the output of slower colleagues by 8%.)
In addition, simply sitting next to a high achiever can improve someone's performance by 3 to 16%! The author of one study, Dylan Minor, believes a combination of positive peer pressure and inspiration are key to these improvements.
If we desire the most productive workplace possible we must be a good example first.
Titus 2:7 teaches, "In all things show yourself to be an example of good deeds."
As you model excellence, then think about placing other productive employees strategically in locations that will improve others' productivity as well.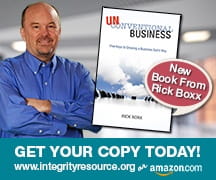 Learn more about Rick Boxx and Integrity Resource Center