God's Divine Insight
By: Rick Boxx
September 8, 2015
My friend, Larry Collett, former CEO of Cass Information Systems, had an acquaintance share that he had liquidated his stock investments prior to the market collapse in 2008. When Larry asked why, this man replied, "God told me to."
Soon thereafter Larry was talking with another friend who had also "pulled out" of the stock market prior to October 2008, because God had forewarned him, as well!
When Larry prayed and asked God why God didn't save Larry from his stock market losses, he realized that he hadn't asked.
Jesus said in Luke 11:10, "For everyone who asks, receives; and he who seeks, finds; and to him who knocks, it will be opened."
If you desire God's direction for your work, ask Him to reveal what only He can, then listen and wait.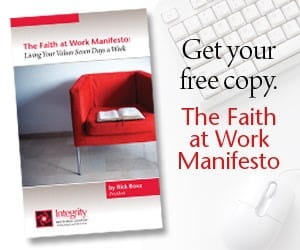 Learn more about Rick Boxx and Integrity Resource Center