Indigenous People's Day
Los Angeles will no longer celebrate Columbus Day because of the city council's belief that Columbus symbolizes "genocide and intolerance of the early America's indigenous people." LA politicians have renamed the holiday, Indigenous People's Day.
Cultures are shaped by the stories they tell of their past and the values those stories highlight. For centuries, we've celebrated Columbus's accidental discovery of a new world, despite his imperfections.
Our culture is shifting. Columbus is now vilified for his mistakes without acknowledging his accomplishments.
In John 8:7 Jesus said, "He who is without sin among you, let him be the first to throw a stone at her."
Columbus had some cultural blind spots, as do we all. But, I believe we need to celebrate our heritage while being mindful of our forefather's imperfections.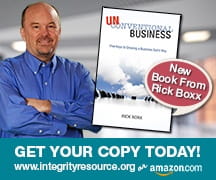 Learn more about Rick Boxx and Integrity Resource Center