Disaster Relief
Bob's floral business was impacted by Hurricane Irma. His power was knocked out for several days closing the business temporarily.
Bob has several employees who live paycheck to paycheck. Bob emailed me to ask how he should handle the financial burdens of his employees.
Bob could choose to be generous by either paying them for their missed work, or by setting up an employee benevolence fund and contributing personal funds to cover their basic needs.
My encouragement was to focus on the principle Jesus taught in Matthew 7:12, "In everything, therefore, treat people the same way you want them to treat you, for this is the Law and the Prophets."
In times of disaster, give as you are able, just as you would like others to do for you.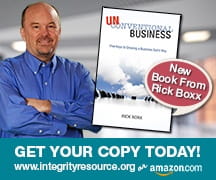 Learn more about Rick Boxx and Integrity Resource Center