Overusing the Brake
The first time I ever rode a bike with handlebar brakes, I followed my friend down his steep driveway. I tried to brake by pedaling in reverse. When that didn't work, I panicked and grabbed both handlebar brakes firmly.
The bike stopped, but I didn't! My body hurtled over the handlebars and into some rose bushes. Overuse of the brakes caused me great harm.
Recently, my wife, Kathy, gently told me that as a cautious person, I sometimes still overuse my brakes at work, causing the ministry harm.
Galatians 6:4 teaches, "Each one should test their own actions. Then they can take pride in themselves alone, without comparing themselves to someone else."
Whether your tendency is to move quickly or slowly, test your actions and adjust according to God's speed.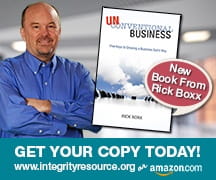 Learn more about Rick Boxx and Integrity Resource Center