Cyber Monday Robbery
According to Adobe, $3.07 billion of goods were sold online on Cyber Monday in 2015, breaking all previous records. According to Adobe Insights, 56 percent of people related joy or admiration to Cyber Monday, versus 40 percent for Black Friday.
But how joyful are employers on Cyber Monday? Comscore, Inc.'s research reveals that 52.2% of all Cyber Monday purchases were made on work computers, while employers were paying for a job to be performed.
Colossians 3:22 teaches, "Slaves, obey your earthly masters in everything; and do it, not only when their eye is on you and to curry their favor, but with sincerity of heart and reverence for the Lord."
If you're planning on shopping online today, consider shopping at home or get permission from your employer.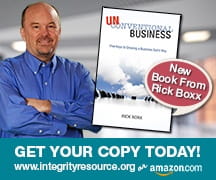 Learn more about Rick Boxx and Integrity Resource Center