When Mistakes Become Public
This last year our Presidential race gave us many more opportunities than usual to see private mistakes made put on public display. From both candidates we witnessed errors that became public.
On some occasions there was an admission of guilt with little remorse. On other occasions, there was a dismissal of the importance of the claims with no apology forthcoming.
The author of Proverbs 1 wrote, "Repent at my rebuke! Then I will pour out my thoughts to you, I will make known to you my teachings." The author goes on to say that if the rebuke is ignored wisdom will laugh when disaster strikes.
If you've made a private mistake that has gone public, don't cover it up. Repent publicly. You might be surprised by the grace you receive.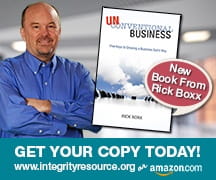 Learn more about Rick Boxx and Integrity Resource Center