Your Priorities
The first time I met Gregg, he said, "Rick, if you choose to work with me you need to know my priorities in life. God's first, my family's second, and this job is third." As a person who had been "running from God" for decades, I couldn't grasp how Gregg's priorities would impact the way he ran the bank where we worked. Soon, however, it became clear.
Gregg made business decisions by considering God and His principles first, before moving forward on major tasks. Those decisions revealed God's wisdom and how placing Him first could positively impact my work.
Jesus taught in Matthew 6:33, "But seek first His kingdom and His righteousness, and all these things will be added to you."
What place does God have in your work priorities?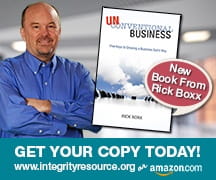 Learn more about Rick Boxx and Integrity Resource Center