A Path of the Wicked
By:Rick Boxx
May 31, 2016
Recently, I met a radio talk show host who had a very colorful past prior to becoming a follower of Jesus. Several of his past business partners had experienced significant legal problems, bankruptcy, and even fraud convictions.
His partners had been so renowned that I still remembered them decades later. He said, "Those guys had a hard time staying out of trouble. They were always doing something wicked."
Proverbs 4 teaches, "Do not enter the path of the wicked and do not proceed in the way of evil men…For they cannot sleep unless they do evil; and they are robbed of sleep unless they make someone stumble."
Many of us try to find good in everyone, but it's important to remember that the wicked are prone to evil and should be avoided.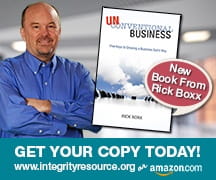 Learn more about Rick Boxx and Integrity Resource Center