A Reasonable Offer
By: Rick Boxx
May 21, 2013
Kathy and I received a financial offer from DuPont for damage their product did to our pine trees. Their offer not only compensated us for actual damages, but also included an additional 15% for restitution.
Now I don't know what process was undertaken to come to their settlement offer, but I do know where their concept of restitution began.
Numbers 5 teaches, "When a man or woman commits any of the sins of mankind, … then he shall confess his sins which he has committed, and he shall make restitution in full for his wrong and add to it one-fifth of it, and give it to him whom he has wronged."
If you've wronged someone and truly want to make amends, consider adding to the damages an amount for restitution.
If you need help or guidance on your business, email Rick Boxx at [email protected].
Rick Boxx's How to Prosper in Business without Sacrificing Integrity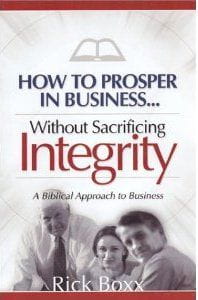 To survive long term, businesses must be profitable. You can accomplish this objective with integrity, or you can do it by whatever means you feel justifies the end, such as fraud, deceit, and ruthless business practices. Purchase here!
"How well are you modeling Faith, Integrity, Relationships, and Excellence in your work? Find out by taking Integrity Resource Center's free FIRE Assessment!"
Contact Rick Boxx at www.integritymoments.org, and to learn more about Integrity Resource Center go to integrityresource.org.