The Biblical Approach
By: Rick Boxx
May 17, 2013
The Barna Group did research on how people make ethical decisions. Although 78% of the people surveyed make ethical decisions in ways that concern me, there were 22% who make their ethical choices according to "biblical values."
Biblical values have worked well for thousands of years. They are the guidelines our Creator gave us to protect us from ourselves and from others.
Jesus summarized all the commands in Mark 12. "you shall love the Lord your God with all your heart, and with all your soul, and with all your mind, and with all your strength.'The second is this, 'You shall love your neighbor as yourself.'"
If you desire a truly ethical culture, don't overlook the importance of promoting biblical values like the Golden Rule.
Rick Boxx's How to Prosper in Business without Sacrificing Integrity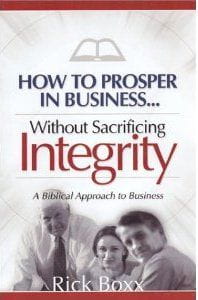 To survive long term, businesses must be profitable. You can accomplish this objective with integrity, or you can do it by whatever means you feel justifies the end, such as fraud, deceit, and ruthless business practices. Purchase here!
"How well are you modeling Faith, Integrity, Relationships, and Excellence in your work? Find out by taking Integrity Resource Center's free FIRE Assessment!"
Contact Rick Boxx at www.integritymoments.org, and to learn more about Integrity Resource Center go to integrityresource.org.