Competing Loves
By:Rick Boxx
March 22, 2016
As a teenager I had a friend who loved two women at the same time! One of those relationships was unhealthy.
It was difficult, but my friend ended his unhealthy relationship and married the other young lady. He grew deeply in love with her, but his love only succeeded due to him sacrificing his competing love.
Many leaders have a similar problem with their relationship with God. Their love for God is constantly competing with other things like money or work.
Jesus said in Mark 12:30, "You shall love the Lord your God with all your heart, and with all your soul, and with all your mind, and with all your strength."
If you desire to love God with all your heart, examine and cull your competing loves so you can pursue God unhindered.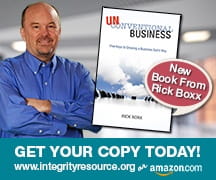 Learn more about Rick Boxx and Integrity Resource Center