Aligning Your Purpose
In 2014, CVS Pharmacy had a dilemma. Their company purpose was about helping people on their path to better health, but they were selling over $2 billion in tobacco products.
After some corporate soul-searching, CVS leaders boldly made the move to stop selling tobacco products in all their stores. Studies now show that CVS' decision positively impacted many communities by decreasing overall cigarette sales.
Many companies have a corporate purpose, but, when profits are at risk it really tests their level of commitment. CVS passed the test!
Paul taught in Galatians 4:18, "It is fine to be zealous, provided the purpose is good, and to be so always, not just when I am with you."
If you have a company purpose, make sure your actions align with your purpose.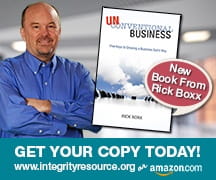 Learn more about Rick Boxx and Integrity Resource Center