The Wing Walker Theory
By: Rick Boxx
June 26, 2015
On several occasions, when my father-in-law talked about career transitions, he told me about his "Wing Walker Theory." He would talk about stuntmen walking on the wings of old airplanes.
When these stuntmen would walk from one wing to another, they never let go of one cable until they firmly held the other cable in their hand.
His career philosophy was similar. Never let go of one job until you firmly secured another.
Unfortunately, God's plan for us usually requires taking steps of faith that would make a wing walker shudder.
Hebrews 11:1 teaches, "Now faith is confidence in what we hope for and assurance about what we do not see."
Be sure it's God leading, but don't be afraid to let go of one job to follow God's exciting career path!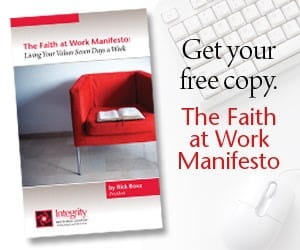 Learn more about Rick Boxx and Integrity Resource Center