Road to Reconciliation
By: Rick Boxx
June 12, 2013
This week I've shared about my anger against a former boss, and the steps to forgiveness God led me to take. After God convicted me of my sin, I began asking God to forgive me.
To determine what God required of me next, I read Matthew 5:23-24 which says, "Therefore if you are presenting your offering at the altar, and there remember that your brother has something against you, leave your offering there before the altar and go; first be reconciled to your brother, and then come and present your offering."
It had been more than two years since my anger began, and I no longer worked for the man, but I began the process of reconciliation by calling my former boss and asking his forgiveness. Suddenly, the toxic anger subsided.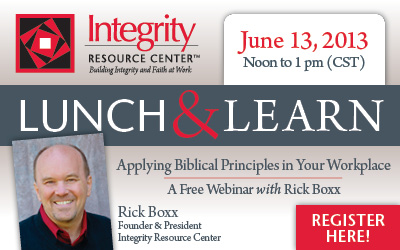 Contact Rick Boxx at www.integritymoments.org, and to learn more about Integrity Resource Center go to integrityresource.org.