Building Community
As the time approached for the day long prayer retreat, I started having second thoughts. There were so many important things that needed done. Also, as an introvert, I relish my quiet time with God, but corporate prayer is more of a struggle.
Despite my reluctance, I went, and left grateful. The time of prayer was sweet, but the added value was the deepened relationships.
My relationship with God improved, and a day spent with others who love God created a unity and friendships that God can use to impact our community, and my life personally.
Psalm 133:1 says, "Behold, how good and pleasant it is when brothers dwell in unity!"
Whether it's in your business, church or ministry, don't forget the value of gathering to dwell in unity.
To learn more about Integrity Resource Center and how we can help you please God in your workplace visit www.integritymoments.org.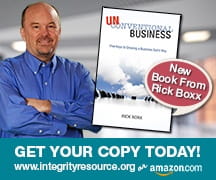 Learn more about Rick Boxx and Integrity Resource Center