A Communication Gap
By:Rick Boxx
July 11, 2016
At our youngest daughter's recent wedding shower, I witnessed, and personally experienced, a communication gap. Bekah's future father-in-law only speaks Spanish, but she doesn't know Spanish, making it difficult to communicate with him.
Through a translator, Bekah's future father-in-law has personally encouraged Bekah to build a better relationship with her new family by making an effort to learn Spanish.
In Colossians 3:14 we read, "Beyond all these things put on love, which is the perfect bond of unity."
As Bekah learns to love her new in-laws enough to desire to learn some Spanish, and as her father-in-law learns to love Bekah enough to learn some English, unity will surface.
If you have people of different cultures in your workplace, remember love is the perfect bond for unity.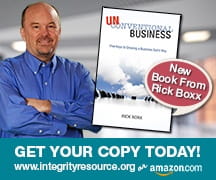 Learn more about Rick Boxx and Integrity Resource Center