A Sales Plan
Janet's interior design business had accumulated some credit card debt and the business wasn't paying Janet a living wage. When she called me for counsel, I discovered that she had great experience, a reasonable business model, and low expenses.
When I asked about sales goals, Janet said, "When I was younger I worked for a large firm that established sales goals for me each month. When I knew what was expected, I always exceeded their goals."
She went on to say, "I don't know why I never did the same for my own business."
Proverbs 21:5 teaches, "The plans of the diligent lead surely to advantage, but everyone who is hasty comes surely to poverty."
A proactive sales plan is far more effective than only reacting to today's opportunities.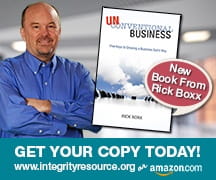 Learn more about Rick Boxx and Integrity Resource Center