The Hiring Process
Hiring new employees can be scary. The risks may include inadvertently selecting someone with character flaws, incompetence, or hiring someone who doesn't fit your cause or culture.
Developing and using a process for hiring can help you discern if God really sent someone to you or if there's someone even better in waiting.
Samuel interviewed and rejected seven candidates before selecting David as king. 1 Samuel 16:7 says, "But the Lord said to Samuel, "Do not consider his appearance or his height, for I have rejected him. The Lord does not look at the things people look at. People look at the outward appearance, but the Lord looks at the heart."
If you're hiring, use assessments and develop questions that addresses the risks mentioned previously and reveals the applicant's heart.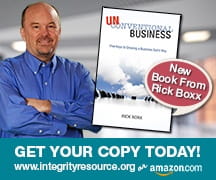 Learn more about Rick Boxx and Integrity Resource Center