Carrying Burdens
One day, during some difficult changes at work, I asked an employee how she was doing. She responded that she was fine. I looked her in the eyes and said, "No. How are you really doing?"
The next morning, with tears in her eyes, this employee shared that my heartfelt question the previous day made her understand that I really cared. She then shared some important thoughts.
A study by Businessolver, discovered that 33% of people would switch companies for more empathy and 40 percent said they would work longer hours.
Empathy means the ability to understand and share the feelings of another.
Galatians 6:2 teaches, "Bear one another's burdens, and thereby fulfill the law of Christ."
If you desire loyal employees, empathy needs to be a value you embrace.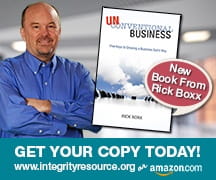 Learn more about Rick Boxx and Integrity Resource Center